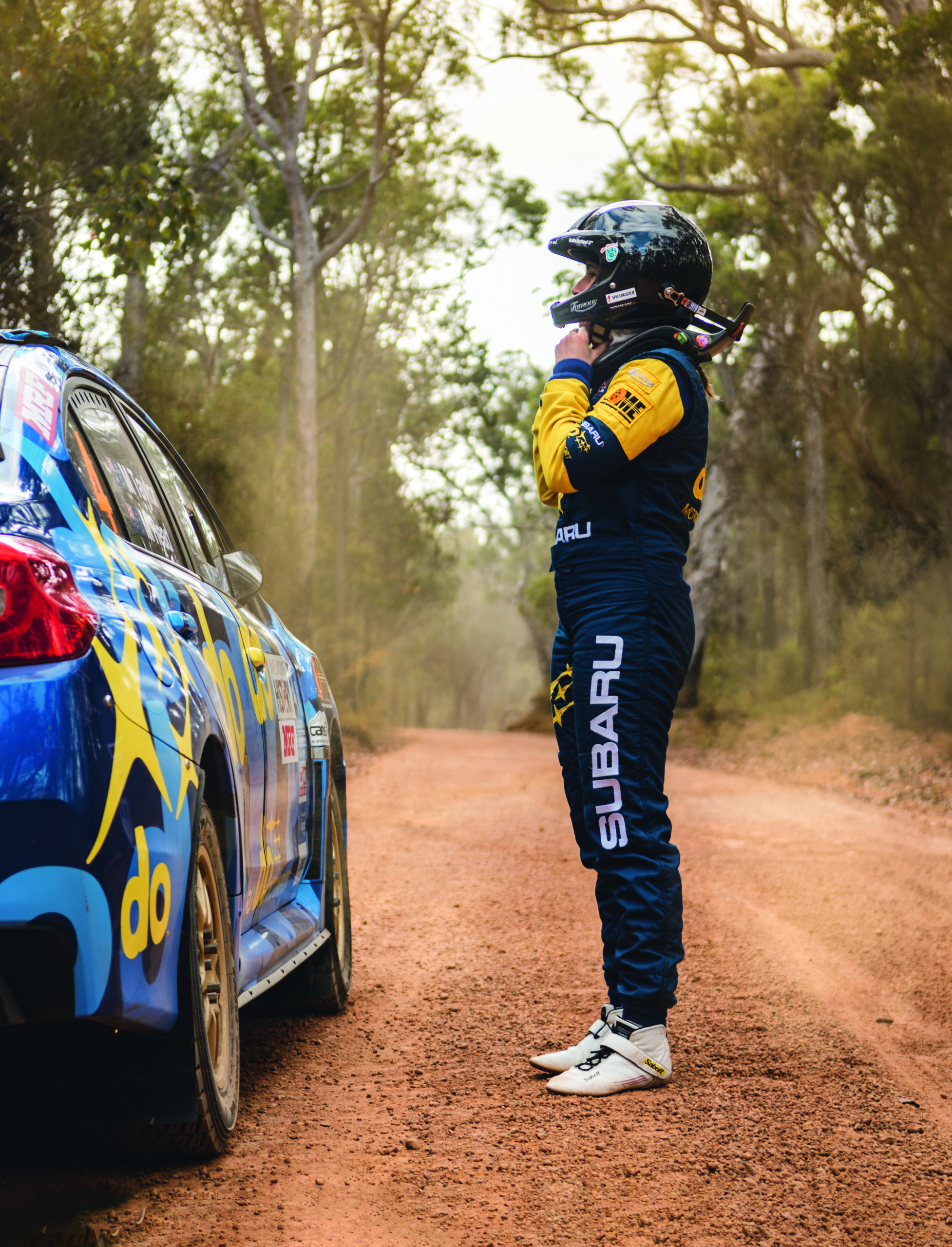 Imagine racing a car as fast as possible through forests, deserts, or snow. For rally driver Molly Taylor, it's all in a days work.
Teen Breathe were lucky enough to chat to Molly about her rally career, the lessons she's learnt, and the rush of the race. With parents that were both professional rally car drivers, Molly grew up surrounded by the adrenaline of car racing. So it's no surprise that, after turning 16 and getting her L plates, Molly found herself in a rally car for her first driving lessons. Instantly loving the feeling of being behind the wheel herself, she worked her way towards competitive driving. Fast forward to today, and she has whizzed through terrains across the globe; from tree-dense European tracks to the sandy Middle Eastern desert.
'What exactly is a rally race?', you might be wondering. Molly talks us through it: 'Traditionally, rally is made up of two to three days of competition, with up to 200 or 300 kilometres of rally stages. You have different competitive stages, and you have to go from A to B, with your co-driver giving you instructions on how fast the corners are.' At the end of the race, the times from each stage are added up, and the team that got through the course fastest are the winners.
Rally drivers can race through the tracks at speeds of over 200 kilometres per hour – that's about double the speed limit of a freeway! It's not hard to imagine, then, just how important safety is. 'There's a lot of safety equipment in these cars. They have full steel roll cages built into the cars, there are raised seats, harnesses, neck restraint devices, and fire-proof clothing. We do some pretty hectic things with the car, but keeping us safe is definitely at the top of the priority list when the cars are built,' explains Molly.
In a rally, it's not just Molly's car that's racing – so is her heart. 'It's definitely a big adrenaline rush and a huge buzz sliding the car around,' says Molly. But at such extreme speeds, she can't let the fact that she's rapidly propelling through a forest overwhelm her. 'There's no time to be thinking about anything other than just what you have to do right now to go the fastest you can through the next corner,' explains Molly. 'You're just so focused on the next thing ahead that you're sort of blocking everything else out and just thinking one step at a time.'
If you think about it, her attitude can be applied to many aspects of life. Consider your classes at school. It can be stressful to focus on how much homework there is to do, that long essay you have to write, or the exams coming up. But if you take it one step at a time, focusing on what you have to do next and putting your energy into that, you'll find yourself looking back at the end of term and seeing just how much you achieved. Although Molly is a professional in dealing with high-pressure situations, she still gets nervous – after all, she's only human. And when those nerves strike, she remembers those thoughts that settle her. 'It comes back to just being in the moment,' she says, 'You've just got to think about what the next thing you can do to make a difference is, and just focus on doing that to the best of your abilities.'
It's this can-do attitude combined with years of hard work, pure determination, and talent that makes Molly the superstar she is. She's a champion – literally – having won the Australian Rally Championship in 2016. At the time, she was the youngest driver and the only woman to do so. When we ask her how it felt, she explains, 'It was the first year that it was my full-time job to be a rally driver, so I didn't expect it to all work out so well the first time! It was a bit of a shock, to be honest, but a dream come true. It was always the goal to be an Australian champion.'
More recently, Molly's team won the 2021 Desert X-Prix in Saudi Arabia in April, as part of the Extreme E series. Reflecting on the race, she says she felt like she learnt something new with every lap. Later this year, as part of the same series, she's set to drive alongside ocean, arctic, rainforest, and glacier environments across the world. With teams racing in electric vehicles, the Extreme E series aims to highlight remote environments under threat of the climate crisis, and provides support to these locations. 'What's so good about this series is we get to race but we're doing it in a way that's part of a solution to bigger problems,' says Molly.
With so much coming up for Molly, it's important for her to take moments to rest, unwind, and reset. Her favourite way to do this? 'Going for a walk outside,' she says. 'Out near any water, up in some mountains, anywhere in nature.'
Whether your dreams for the future involve car racing around the world, or something slightly slower paced, we can all keep Molly's words of wisdom in mind: 'Try and make a positive impact with whatever you're doing. Not every day is going to be great, but as long as you're still working on something you believe in, that's what matters.