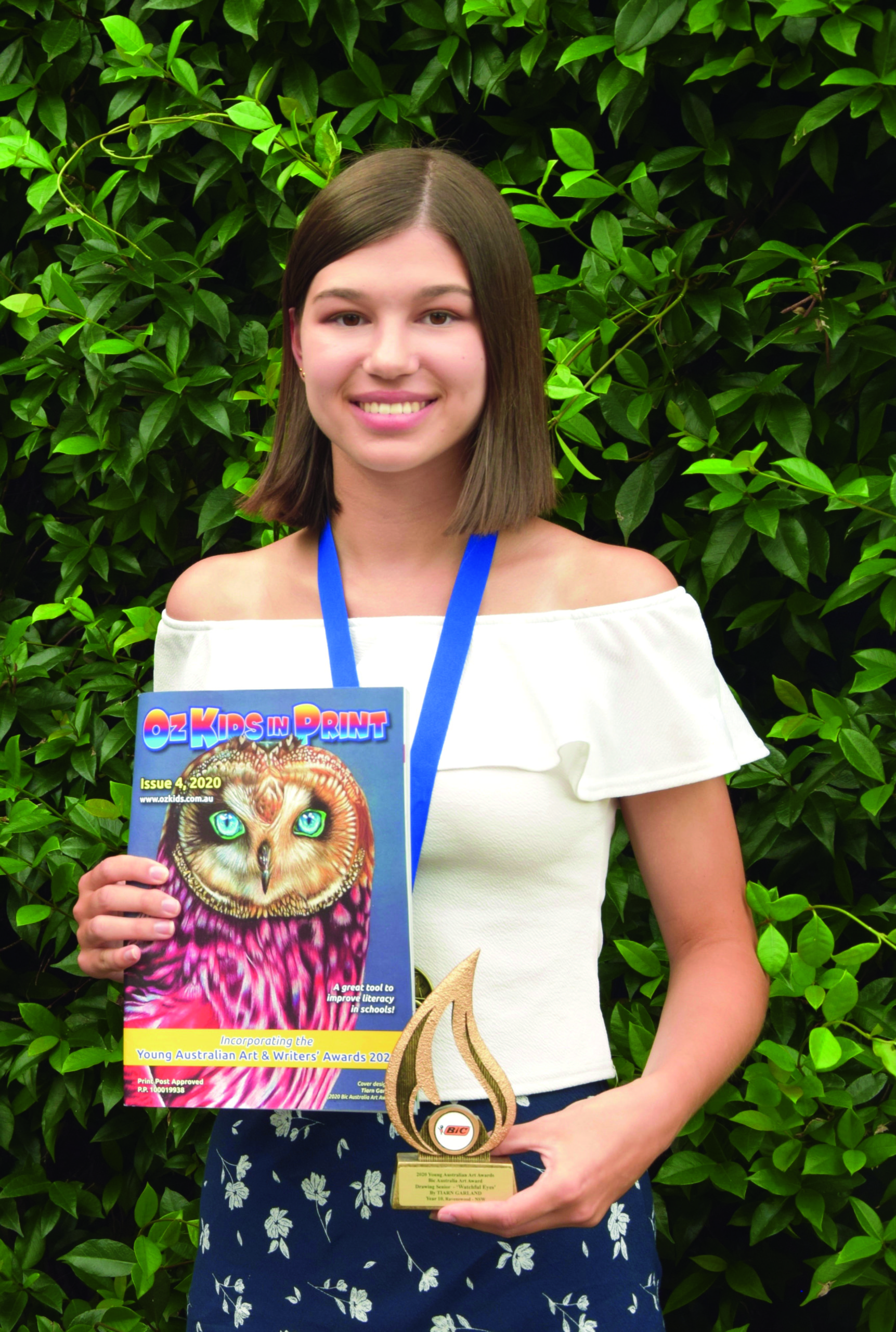 Meet the wildly talented artist who's using her drawings and her voice to make a real difference in the world.
At 16 years old, Tiarn Garland has already kicked so many goals. Her incredible piece 'Here today, but tomorrow?' won the World Wildlife Day 2020 International Youth Art Contest, and it isn't hard to see why. She's also a Youth Ambassador for the International Fund for Animal Welfare (IFAW). Combining these two passions – art and animal conservation – she creates the kind of artwork that makes you wonder how on Earth it's a drawing and not a photo. Teen Breathe had the privilege of chatting with Tiarn to hear what inspires her, her hopes for the future, and the secret to drawing a masterpiece.
WHEN DID YOU FIRST START MAKING ART? HOW DID YOU LEARN TO DRAW?
I have been making art for as long as I can remember; it was something that just came naturally. I would see things or photos – people, animals, landscapes – and I would sketch them out. My parents bought me a couple of 'how to draw' books when I was in primary school, but I never got used to the concept where you draw an image using simple shapes. I do recall years ago watching a YouTube tutorial on how to draw a realistic dog – a husky – and I guess that was where my love for creating realistic drawings all started.
HOW DO YOU FEEL WHEN YOU ARE IN THE ZONE, CREATING YOUR ART?
It's hard to describe; it's as though time does not exist, and hours can pass without me even realising. It's only when my hand starts to get sore that I find that I may have been drawing for a couple of hours straight. When I draw, I like to listen to music and get caught up in the sound while still focusing on my artwork. It's like the outside world does not exist and there is just me, my music, and my pencils.
WHAT IS YOUR PROCESS WHEN DRAWING YOUR INCREDIBLY REALISTIC DRAWINGS? HOW LONG DO THEY USUALLY TAKE YOU?
When I draw, I start off by making an outline of what the drawing will look like. I think about whether to include a background or just the subject. To help me get the proportions right, I might use a ruler or a grid. If I'm drawing an animal or person, I tend to start with the nose, then move to the eyes and mouth and gradually fill in the whole face. I then start on the hair or body, working my way from the left-hand side to the right. This way I do not smudge the drawing. To make things like fur and hair look realistic, I use lots and lots of fine pencil lines. The amount of time I take on a drawing varies depending on what the subject is. The longest I have taken on a drawing is around 30 hours, however usually they are around 15–22 hours.
YOUR PICTURE 'HERE TODAY, BUT TOMORROW?' WON THE 2020 WORLD WILDLIFE DAY INTERNATIONAL YOUTH ART CONTEST. WHAT INSPIRED YOU TO CREATE THIS ARTWORK FOR THE COMPETITION, AND WHAT MESSAGE DO YOU HOPE TO SEND WITH IT?
Every day during the 2019–20 bushfires, I saw heartbreaking images on TV and social media of forests burning, animals perishing, people losing everything. I thought it would be important to create a piece of art to demonstrate what we were facing here in Australia; a scene which represented the sustainability struggle that was happening in my own back yard. I wanted to draw attention to the vulnerability of native wildlife and how their lives hang in the balance. I wanted my artwork to provoke an immediate and emotional response in the audience and decided that I could best do this by illustrating one of Australia's most iconic and loved animals.
HOW DOES IT FEEL TO BE A YOUTH AMBASSADOR FOR IFAW, AND WHAT DOES THAT INVOLVE?
Being a Youth Ambassador is quite exciting and I am both humbled and very grateful for this opportunity. IFAW is an incredible organisation with dedicated staff who work across the globe rescuing, rehabilitating, and releasing animals as well as rehoming domestic pets left homeless after major crises such as earthquakes and hurricanes. They are also committed to restoring and protecting the natural habitats of native animals – all things that I am passionate about and feel proud to be associated with. As an IFAW Youth Ambassador, my role is to advocate for conservation and animal welfare. I do this through inspiring my family, friends, school peers, and social media followers to actively support the protection of animals, their habitats and communities. I was honoured to have assisted in judging this year's World Wildlife Day Youth Art Contest.
WHO INSPIRES YOU THE MOST?
In terms of art, I would say Heather Rooney. She is a hyperrealistic artist who tends to mostly draw portraits. Watching videos and paying close attention to how she draws has really helped me improve. In terms of conservation, it would have to be Jane Goodall. Last year I was lucky enough to see an advanced screening of her documentary The Hope. I walked away from that feeling so inspired by this remarkable woman who not only hoped for a better world, but put in place actions to achieve it.
WHAT KIND OF WORLD DO YOU HOPE TO SEE IN THE FUTURE?
I would like to see a world free of animal cruelty, and a world where the protection of wildlife and their habitat is a key focus of all governments and communities. I would like to live in a world where sustainable development is a priority, and where we actively tackle global challenges such as climate change. I want a world with equitable access to education, health, and food security, as well as access to basic resources and services such as clean water and sanitation.
HOW DO YOU THINK YOUNG PEOPLE CAN HELP MAKE THIS WORLD A REALITY?
Young people can help this become a reality by volunteering their time in support of conservation and humanitarian activities. Simple hashtags and videos on social media can create massive social awareness and so we can share news stories and information around the globe and rally people to make a change. We can also get involved in art and writing competitions to drive home messages. Although we may be young, we are tomorrow's future and some of us will go on to become influential leaders; if we have a passion for conservation and a vision for a better world, we will be in a position to create it.