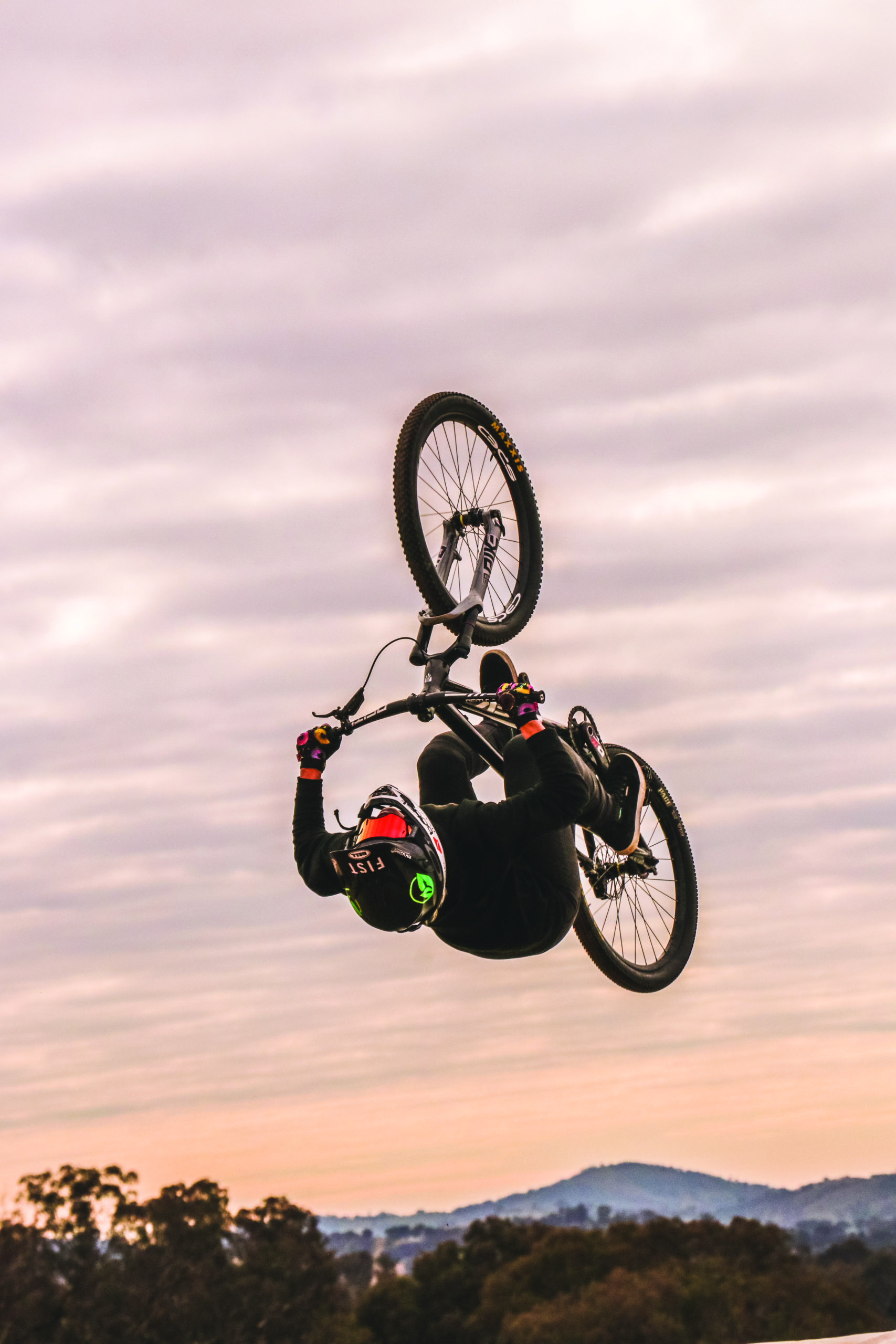 Tracks, ramps, tricks and flips – there's never a dull moment in BMX. Check out our beginner's guide and hear from BMX world champion Caroline Buchanan
Have you ever gazed with wonder at people flipping mid-air or speeding down skatepark ramps on their bikes? Why not try out BMX for yourself? This extreme sport is such a fun way to make new friends, boost your bravery, and learn some gnarly skills if you love whizzing around on two wheels.
BMX first arose in California on the west coast of the US more than 50 years ago, and is now so popular that it's become an Olympic sport. But that doesn't mean you need to be a thrill-seeking athlete to enjoy it.
All it requires is the right bike, a crash helmet, smart safety gear – for example, elbow and knee pads – and a sprinkle of courage. From simple steps like finding your first frame, to seeking out places to practise, here's how to get started.
WHAT IS BMX?
BMX stands for bicycle motocross – a sport packed full of adrenaline, tricks, jumps, and speed. It's performed on specific BMX bikes and is split into two types: racing and freestyle. Races are held on single-lap dirt tracks that have tons of tough turns and obstacles to tackle, while freestyle is all about tricks – think street riding, urban ramps, and skatepark stunts.
WHAT'S DIFFERENT ABOUT A BMX BIKE?
BMX bikes aren't the same as your regular roadsters or mountain options. They're a lot smaller, for starters. They have knobbly tyres to help riders stay steady on uneven tracks, and they're usually made of chrome steel, which makes them light and perfect for tricks. They have been designed with stunts in mind, so people can spin and twist certain parts without causing any damage. Plus, they're durable – sturdy enough to take hard landings from big jumps.
WHO CAN TRY BMX?
Anyone! The best part about the sport is that you can make it as chilled or challenging as you like. Once you've got the right kit – you might want to enlist the help of a guardian to see if it's sensible to rent a bike first before buying your own gear – just search online for your local skatepark or dirt track and get riding. If you're not sure which tricks to start with, there are tons of YouTube videos that teach riders easy beginner's moves. What about if you've already mastered the barspin, the 180 and the bunny hop though? That's the cool thing about BMX, there are always tougher flips, steeper hills, faster speeds, and bigger ramps to attempt – you never stop learning.
MEET A WORLD CHAMPION BMX BIKER
Caroline Buchanan hopped onto a bike at the age of three, and never stopped riding. Now she's 30 years old, and her talent has taken her on adventures around the world – she holds eight world titles for BMX and mountain bike racing, and has competed in the last two Olympic Games, with her sights set on the next Olympics in Tokyo. A legend on and off the track, Caroline is also passionate about gender equality and cheering on other women in sport. In 2014, she launched her scholarship and mentoring program, Buchanan NextGen, in an effort to support the progression of women in BMX. The successful program is still ongoing today, changing the lives of enthusiastic teenage girls every year. With her great determination, down-to-earth attitude, and generous heart, Caroline is an all-round inspiration. We had the chance to ask her a few questions about her sport.
WHAT DO YOU LOVE MOST ABOUT BMX?
Every day and every track is a new challenge. I love that there are no white lines and that it's fast, adrenaline-filled, and the faster you go, the harder it gets.
WHAT EVENTS HAVE YOU COMPETED IN AND HOW DOES IT FEEL TO BE A PART OF THEM?
Over the past 15 years I have split my time between BMX and mountain bike racing. I have competed in downhill, slalom, four-cross, pump track, slopestyle, dirt jumping, BMX racing, BMX freestyle, and whip-off. I have always loved the competitive side of racing, however I am now really enjoying the progression and expression I can find in freestyle mountain biking.
WHAT IS YOUR FAVOURITE BMX MOMENT SO FAR?
I am really proud to have won eight world titles, but my favourite has been to represent Australia in the green and gold at two Olympic Games so far, in London and Rio.
WHAT IS THE SCARIEST THING ABOUT BMX AND HOW DO YOU OVERCOME THOSE FEARS?
Fear simply is not staying in the moment. With BMX, if you think about the past and times you have crashed or failed, you will be in a fear state. If you think you have already won the race, or worry what could happen if you don't make the next jump, you're living in the future and the unknown again. The hardest part about learning BMX is staying in the moment and adjusting your focus to the jump you're on now.
WHEN YOU AREN'T TRAINING OR COMPETING, WHAT ARE YOU USUALLY UP TO?
I spend a lot of time off the bike working on my brand, business, and relationships, as well as my mind and body – champions are formed when the grandstands are empty. Injuries come with the nature of the sport, so I spend every other day doing some form of rehab recovery, like infrared saunas, massages, and seeing a chiropractor. I recently just got a new little French bulldog, so he has been taking up lots of my time, I love him! I love being home in Australia and spending time with family after living in California for 10 years.
HOW DO YOU RELAX AND UNWIND AFTER A LONG DAY?
I love to light candles, put on some acoustic music, have a hot shower, stretch, and dab some calming essential oils on my wrists and pillow before bed.
WHAT'S YOUR BEST LIFE ADVICE? Set goals that scare and excite you – that way you're always evolving and surprising yourself with your incredible abilities!
Keep up to date with Caroline on her Instagram, @cbuchanan68 or visit carolinebuchanan.com