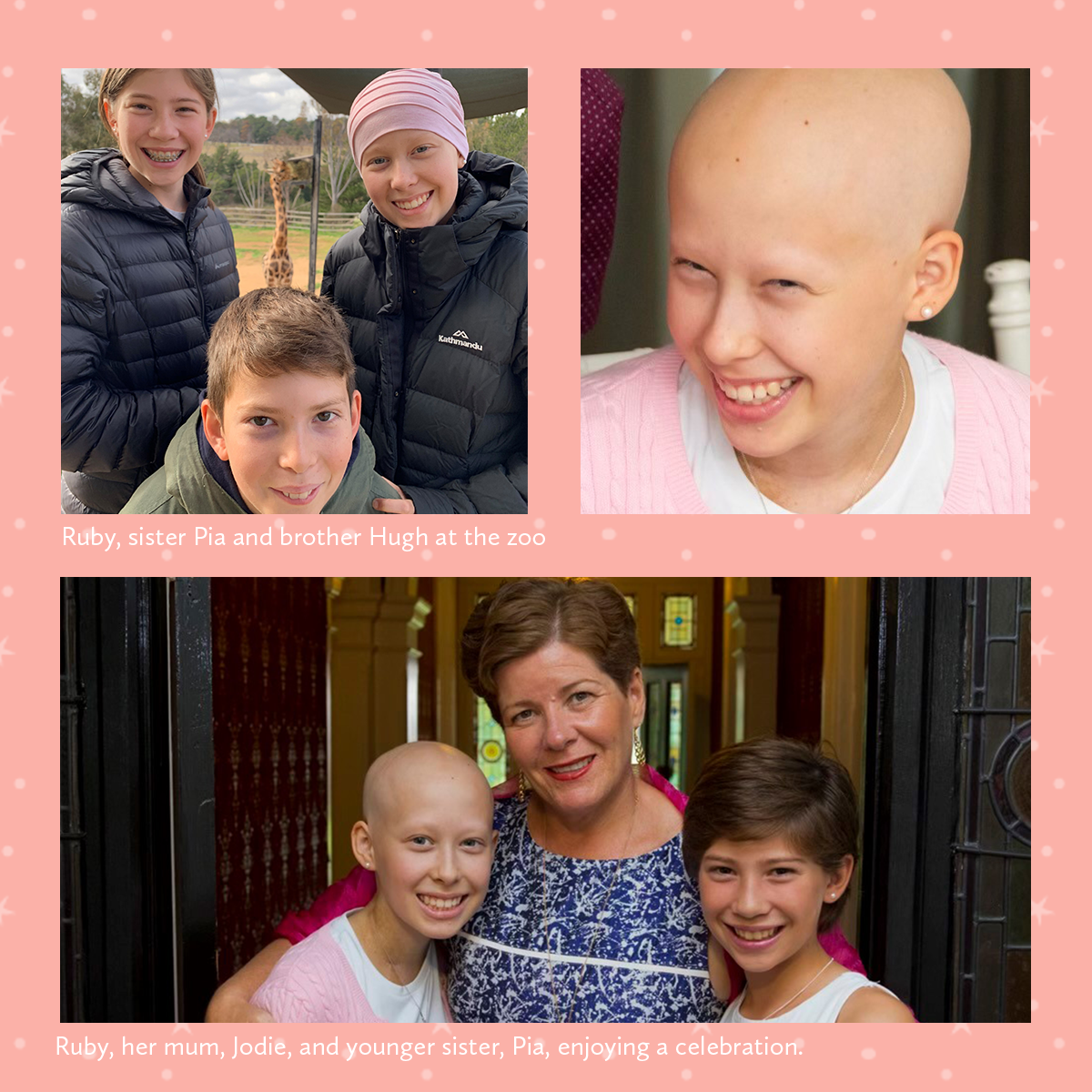 The stress of choosing HSC subjects, dealing with the heartache and frustration of lockdown, wondering what the future holds… At 14 years old, most of us have a lot on our plates already. Add an Acute Myeloid Leukaemia diagnosis (and all its related punches) to the mix, as in Ruby D'Rozario's case, and your life is pretty much turned on its head. Now 18 (and two years cancer-free!), Ruby is a monument to resilience. In honour of Blood Cancer Awareness Month this September, she shares some of her journey with Teen Breathe.
Ruby, you're an absolute warrior. Do you sometimes stop, give yourself a hug, and go, 'I'm PROUD of me'? (We hope so!)
I've overcome huge hurdles in life and at a young age. I am proud of what I've overcome, but I did what I had to do, and it was a team effort. Sometimes I still ask, 'Why me?' but I understand that sometimes bad things happen.
What did you learn about yourself during this journey?
Teenage years are a tough time without cancer. Being put in a situation where you are suddenly being told you have cancer, may not survive, and will need months of treatment and a bone marrow transplant is really scary. Looking back at my 15-year-old self, I would say l learnt that I am very resilient and brave – a real fighter with a lot of determination.
What did you find the hardest to deal with?
Treatment for leukaemia was traumatic, scary and something that still haunts me, but I survived! From experience I know that you can get through it by staying strong and positive. I was constantly repeating this to myself throughout the journey. There were many challenges, from full body radiation, to lesions on the brain, mucositis, and a serious case of Graft vs. host disease, which resulted in the need for steroids (which also have many other severe side effects). As a result of all the side effects I ended my second transplant very underweight. Although, the most challenging part of the whole journey had to have been spending over 100 days in isolation, no one could enter the room except for the doctors, nurses and one guardian.
Who or what did you turn to when the going got tough?
During the toughest of times, when I was upset over the situation, I looked around the ward at all the babies and toddlers and realised just how lucky I was to not be in their situation. Those poor infants were completely oblivious to what was happening and why they were experiencing so much pain, it was almost like the only normal they knew. To distract myself I would focus my attention on activities like word searches, colouring, online shopping and, of course, Netflix! Music Matt was a soothing distraction as he would play the acoustic guitar whilst I dozed off to sleep. He was an incredible person who made a world of difference to each hospital admission.
What's been the most helpful support you've received?
I have so many wonderful people who continue to support me. My mother and father are amazing advocates for me as they continue to support me in everything I do. My cousin Belle and good friend Cassie (who I both see as older-sister figures) would always visit me as an inpatient and pamper me, whether that involved painting my nails, giving me a gentle massage, or simply just keeping me company. They were always there no matter what. As for the nurses at SCH, they were  incredible people who always looked after me. Not only did they provide the medical care I needed, but they also never failed to make sure I was comfortable and entertained.
And what hasn't helped at all, advice or people doing things that's just annoying or upsetting or random?
Something that's upsetting is some people don't understand that the effects of cancer take time to heal both emotionally and physically. Chemotherapy unfortunately is not a targeted drug; the treatment basically uses powerful chemicals which aim to kill fast-growing cells in your body. Chemotherapy can therefore destroy any living cell inside of you. I am still healing, and some people don't quite understand that.
What could carers or friends do differently or better to help someone going through a serious illness?
I believe you should never treat someone going through a serious illness like something fragile. Treat me like me – don't change the way you act around me, just treat me like you always have. Have fun with me, try and make me laugh, and always try and cheer me up when I am feeling down.
What makes you hopeful for the future?
I am two years in remission, and I take each day at a time. I'm really looking forward to what the future holds.
What do you look forward to most?
I am currently filling out university applications. I am honestly just looking forward to a new beginning, a fresh start, independence, and a new type of freedom that I haven't experienced before.
What would you like to do for a career going forward, and why?
In the future I would like my career to be centred around cancer nutrition and how nutrition is a vital part of cancer recovery. As a childhood cancer survivor, I remember being told to eat whatever I would like no matter how calorific the food was.
What is most precious to you?
As cheesy as it sounds, what's most precious to me is my family. Without them I reckon there wouldn't be much contentment and fulfilment in my life. Yes, we may argue sometimes, but we also share many fond memories that evoke feelings of joy.
What message would you like to send out to young people going through tough times?
Don't be afraid to reach out for help. There are so many organisations dedicated to helping young people no matter what they are going through. For me it was the Leukaemia Foundation that assisted me in my journey with blood cancer and provided my family with amazing support. I'd also like to think I was here to help those who are going through an illness of any kind. I want people to see my story as inspiration to stay hopeful, be open to new perspectives of life and carry on with pride. If you ever need some uplifting inspiration, make sure to check the account @leukwhoisliving on Instagram, a page I created to share stories of those who have survived cancer with courage, hope, determination, and admirable strength.
Follow Ruby on Instagram at @leukwhosliving.
Ruby's favourites
Band/music/musician: I love, love, love, chilled, mellow, acoustic music.
Book: I love a good mystery/suspense novel. A standout must be the Karen M. McManus thriller One of Us is Lying.
Food: One I couldn't wait to taste again once the side effects of chemo left me alone: sweet potato chips with aioli.
Quote or saying: 'You never quite know how strong you are, until being strong is your only choice' OR 'No matter how hard it is, or how hard it gets, I am going to make it'.
Inspiring human being: Turia Pitt is. Whilst running in an ultra-marathon in 2011, Turia got caught in a grassfire, which resulted in burns to 65 percent of her body. After being rescued from the remote desert in a near-death state, she was immediately flown to hospital where she had over 200 medical procedures and spent two years in recovery. I am in complete awe of her admirable positivity! She didn't let such a horrific incident break her, instead she continued to do what she loved most. Since then, she has coached over 40,000 people through her digital courses, written three best-selling books, competed in the Ironman World Championships, walked the Kokoda Trek, and sailed a boat around French Polynesia.
Outdoor thing to do: My favourite outdoor things to do would have to be playing tennis and spending time in the snow skiing and snowboarding.
September is Blood Cancer Awareness Month. If you or someone you love is diagnosed with a blood cancer, please reach out to the Leukaemia Foundation on 1800 620 420 or visit leukaemia.org.au.
Light the Night is a beautiful annual event where people come together to fundraise for life-saving cancer research and care while supporting those who are fighting and remembering those who have been lost. The event encourages participants to light lanterns as a symbol of hope and to honour those affected by the disease. This year's event has moved to a virtual space, so come on and join in to support! Light the Night is happening on Saturday 16 October. For more information and to register visit lightthenight.org.au.