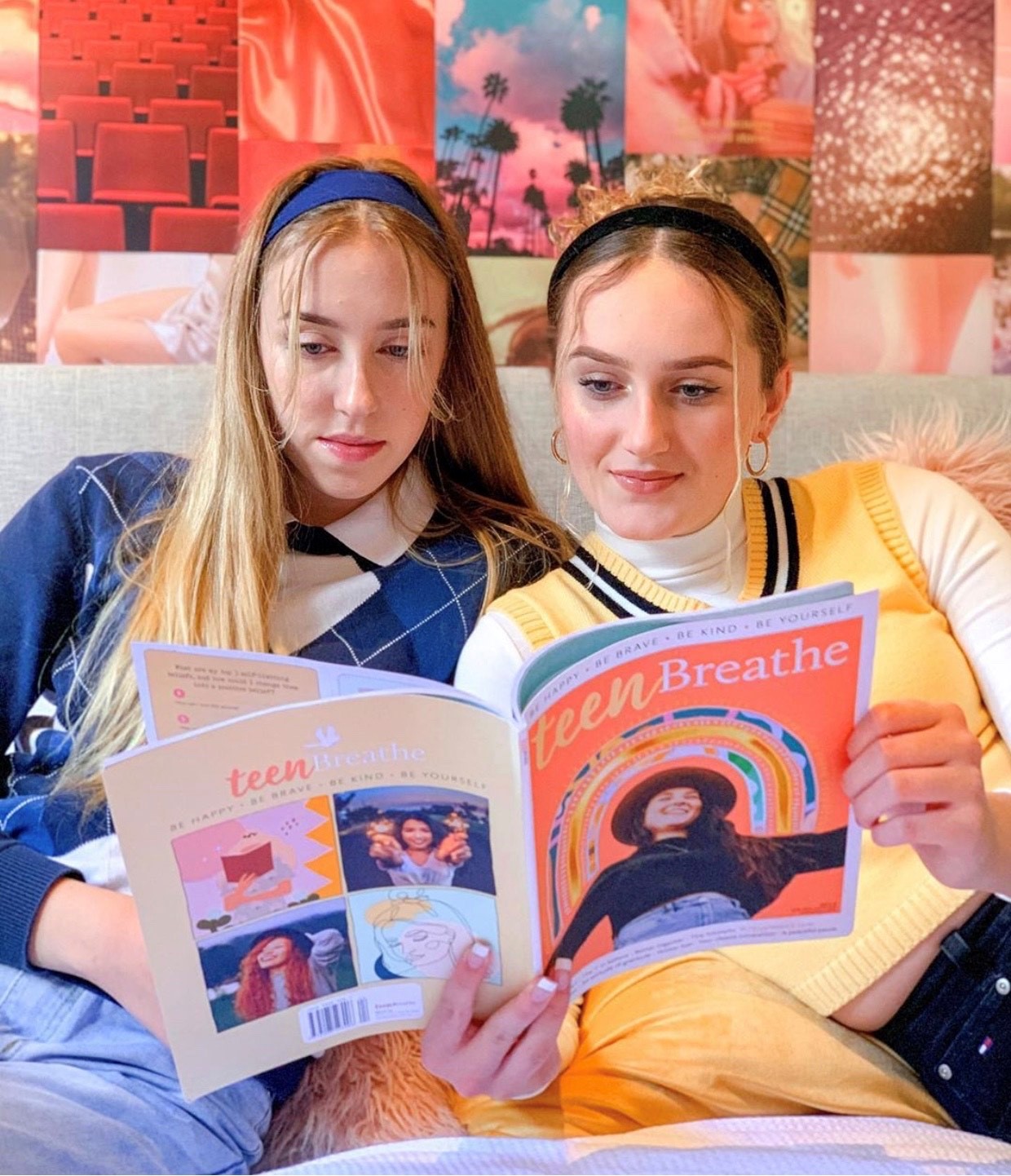 Millie and Chloe, two teens from Melbourne, share with us their thoughts and feels over the current strange times of separation from friends, and how they've remained positive, peaceful and mindfully connected despite the challenges.
The world needs more positivity and connection than ever before. How do you feel about this?
Millie: I 100 percent agree with this statement. Being stuck in your house with little to no interaction with other people or your friends will drastically impact the mental health of many during this time. Now it is especially important to go out of your way and to check up on your friends and see how they're doing. You can be the reason to make someone's day!
Chloe: I could not agree more with this statement. With the current ongoing issues in the world I agree that we need to spread positivity and connect with our family and friends more than ever. Being kind and thinking about each other is so important.
What's been some unexpected positives about lockdown?
Millie: Definitely life slowing down a little bit. Before lockdown, for me personally life was so fast, I always had something planned or somewhere to be. Now I can focus on things like reconnecting with friends and spending time with family. I appreciate the little things more, and when I do get to see my friends again I will be more grateful and value my time with them more!
Chloe: The best thing about this lockdown is having the opportunity to take time for ourselves, to focus on our families and our hobbies etc. With everything going on in our lives, lockdown enabled me to slow down, relax and enjoying the simple things in my life.
What's been a negative over the last few months, and how did you overcome it?
Millie: Staying focused has been a problem for me. I'm constantly finding myself drawn to other things that take away my attention from my work. But when I'm at school I'm sitting down with just my pencilcase and workbook so there's nothing else to distract me. Now at home I've tried moving my phone off my desk so I don't have easy access to it. I've also tried to change my mindset to tackle all my work so I can talk to friends later, during lock down I've realised by not going on my phone I'm not going to miss anything that can't wait.
Chloe: The worst part of lock down for me was doing remote learning. At the beginning I really struggled with knowing how much detail I needed to do in my work and my ability to focus all day sitting at my desk! I definitely improved this situation and by the end of the first lock down, was able to focus and get the work done quickly and stress free.
How did you remain connected to your friends?
Millie: Personally, my friends and I use Snapchat a lot to keep connected. We also FaceTime sometimes if we have lots to chat about which is always nice to talk to them in a proper real time conversation. Last lockdown my friendship group and I used an extension called Netflix Party as well to watch movies together. This is super fun since you can write comments and have a conversation while the movies played. We watched a scary movie and it was really fun!
Chloe: Luckily there are so many social media apps available to text and call my friends. My favourite thing to do with my friends is to use a streaming service to video call each other and watch movies together! It was so fun and honestly felt like we were having a big sleepover together (which I miss doing haha).
MINDFUL ACTIVITY IDEAS FOR HOME
Millie and Chloe share with us a variety of their favourite ideas and pastimes to make quality moments spent at home all the sweeter.
Millie's activity ideas:
Room makeover
Before lockdown, my bedroom was where I could escape to just relax, chill and do my own thing. But because of online school, it's also where I now spend most of my day, from 8am – 4pm, in online classes. It didn't feel like my special place to escape and relax anymore, but being stuck at home for weeks on end, I didn't really have anywhere else to go either. So Mum and I had the idea to makeover my room.
We put up a wall collage of aesthetic photos, LED lights around my bed and added a small galaxy projector and tiny disco light. I play music, turn on all the beautiful coloured lights, and just dance around and chill in my own little world. I really think that if you are doing online school in your bedroom, you should find a way to distinguish between it being your classroom and your bedroom. Even if its something as simple as turning on music as soon as your classes end or changing the lighting, just doing something to switch your room from 'classroom' back to your private or special space really helped me to relax and de-stress.
Get crafting
I also find crafting to be fun and relaxing, so I've also been trying to be more creative while I've been in lockdown. As part of my room makeover for example, I searched the internet for cute images which I printed out and used to create a collage under glass on my desk. I also printed out and hand-coloured small black and white butterflies which I hung from fishing line above my desk intertwined with fairy lights. I actually find it really satisfying to create something yourself rather than buying it. You don't necessarily have to spend money to give your room (and spirits) a lift. And even if you don't have a lot of craft supplies at home, there's still so many ways to be creative with a just a printer, paper and scissors!
Closet cleanout
Another thing I did recently was a huge closet cleanout. When I first went into lockdown, I felt like my closet was exploding. I would actually feel bad every time I went to look for something to wear as I knew I probably wouldn't find it. Similarly, my room and desk was filled with clutter, and I felt stressed at times being surrounded by the mess. So I used the Marie Kondo cleaning method to decide what to keep and what to throw away. Marie says to consider every item and ask yourself 'does it give me joy'? If the answer is 'no' then thank it for being part of your life and say goodbye. I won't lie, it was the longest two days of my life as there was so much to go through and clean out. But I can't explain how wonderful it felt afterwards. I would highly recommend everyone doing a major closet cleanout and room declutter during lockdown as it honestly feels so great afterwards. Months later, I still wander into my room or open my cupboard or drawers and feel good about what I see!
Mindful moments
My advice to everyone is to do things that make you feel good in the moment. Sure, sitting on Snapchat or Netflix might make you feel good for a while. But the moment they start to feel boring or annoying is the time to stop and take a moment to go and do something mindful! It doesn't have to be something major like making over your room or cleaning out your cupboard. It just needs to be something that reminds you to be calm, productive and focused. Walking the dogs, going outside to photograph the sunset, baking with my Mum and listening to music are all little things that remind me that life in lockdown can still be fun; there's plenty to look forward to and this won't last forever.
Chloe's activity ideas:
Painting power
I love painting, and I don't do it often enough, so as soon as I heard lockdown was happening I literally ran out to Spotlight to grab supplies. I found a heap of random small storage boxes from around my house and painted on aesthetic designs and patterns to store stuff. I now have a heap of pretty painted boxes that store some of my school supplies on my desk.
Fashion forward
I love fashion and current trends. Something I often do is sewing and 'thrift flipping' – turning something old that I have bought from a thrift shop into something new. This is sustainable and a good way to reuse and make a new item out of something old and unwanted. I have turned jeans into skirts, oversized tops into fitted crop tops and completely reworked some things into something new and cool. I recently bought white track pants and I am going to colour tie dye them into a new fashionable piece. I'm also looking forward to getting stuck into cleaning out my wardrobe again this lockdown and repurposing some items, donating some, and reselling some on secondhand clothing sites. I like to clean out my wardrobe properly a couple of times a year and it's due for the next big clean and clothing cull.
Online movie dates
One of the biggest things I missed in lockdown was seeing my friends and having movie nights. We found an online website where you can all video call each other and also watch movies at the same time. So you bet we used this so much! We watched the Hunger Games series and Divergent series and so many more. I also watched the Notebook online with my friends and we all had a big cry together. This was such an important thing for me to do because without being able to see my friends in person meant staying connected 'virtually' is always important.
Check out Millie and Chloe's inspo and DIY videos on YouTube