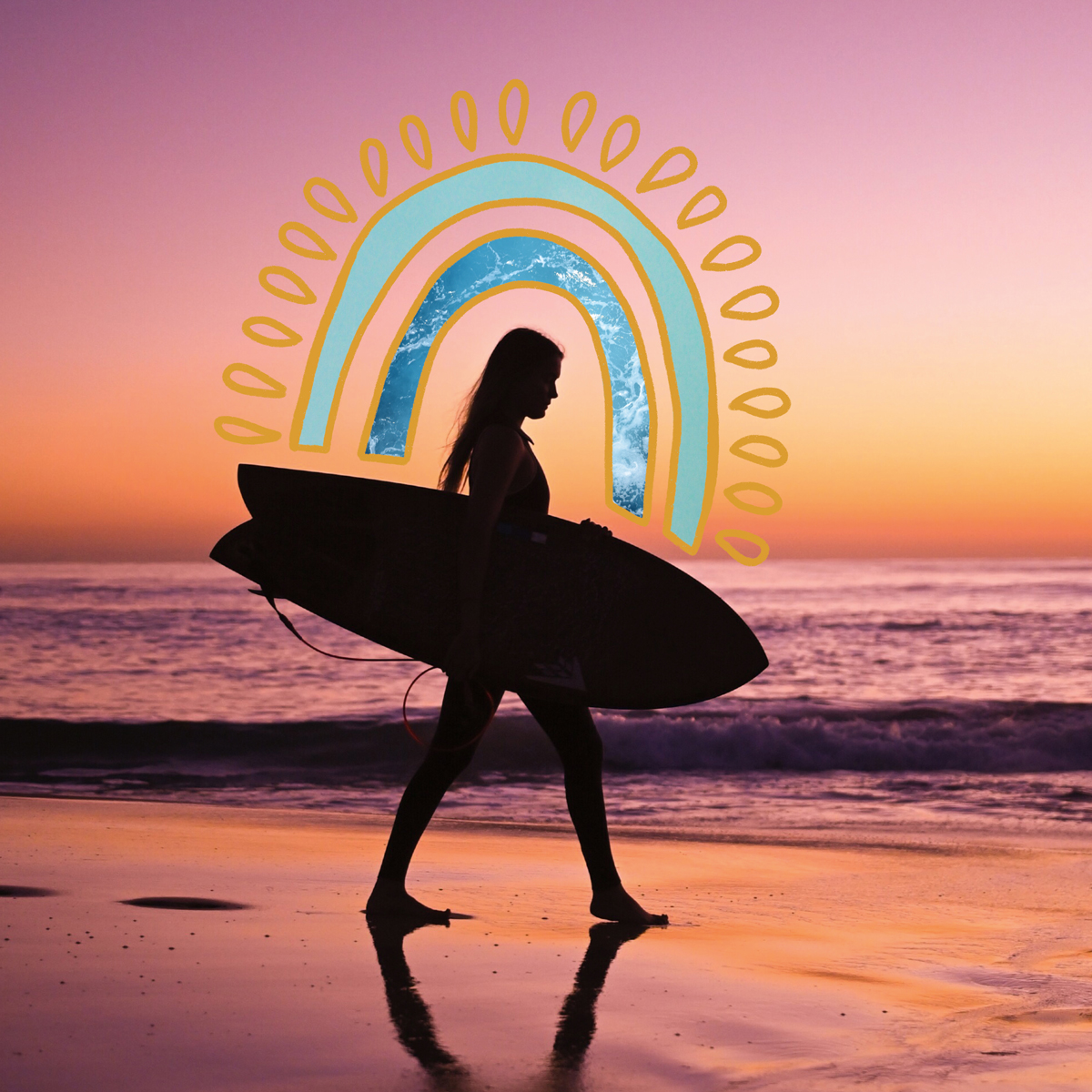 Pro surfer, eco-warrior and all round #inspo with a heart of gold. Teen Breathe had the privilege of speaking with the incredible Pacha Light.
HOW OLD WERE YOU WHEN YOU FIRST GOT INTO SURFING, AND HOW DID YOU START?
I was nine years old when I first came across surfing. We had just moved into our eco-house near Yamba, I saw a sign for a local board riders club and went along to see. I had my first try on a borrowed soft top board and was instantly hooked!
Mum found a beaten up old board at a garage sale, and my brother and I took turns riding it, but my 10th birthday was coming up and I started pestering my mum for a new one. Money was really tight and she said that if I really wanted a new one, maybe there was something I could do to raise money for it. I was a bit of a dance fanatic at the time, so I borrowed my grandmother's CD player and started busking.
I'll never forget how nervous I was, but also how happy it made me feel seeing the smiles of people watching. My big break came when I set up to busk at the Roxy Pro World Surfing Tour at Snapper Rocks. I made a sign saying 'Busking for a Board' and started dancing my little heart out! Out of nowhere, a beautiful young lady stopped and watched with a huge smile on her face and next minute started to dance with me – she was so much fun! I had no idea at the time she was one of the top 10 female surfers in the world: Laura Enever!
She left and came back with one of her backup boards and said it was for me… It was a life changer. I rode that board every day and even though it was really hard (a pro surfer's board isn't the easiest to start on), I truly fell in love with surfing.
Laura became a friend for life, who welcomed me into the sisterhood of surfing – we support each other and share the joy, and have had a lot of dance parties along the way! Her kindness in giving me her board had a lifelong impact – not just for me, but for many others; from that experience I've tried to 'pay it forward' on my surf travels by bringing extra boards along to give to young girls and encouraging everyone to get out there and have fun in the ocean.
CAN YOU DESCRIBE SOME OF THE EVENTS THAT YOU COMPETE IN?
My very first international surf competition was the ISA World Juniors at the Azores islands in Portugal at the age of 16. It was amazing. The place was so beautiful and I loved everything about the experience – even the pressure of competing.
I've had some beautiful, stressful, and exhilarating experiences in exotic locations, from the Caribbean to Africa, and Indonesia to Ecuador! Last year, our first contest was in China, on Hainan Island, and it was like nothing you could ever imagine. We were surfing a lovely left break wrapping into a bay with free-roaming horses, classic local characters, and coconut palms as far as the eye could see.
WHAT DOES YOUR TRAINING AGENDA LOOK LIKE TO PREPARE FOR THESE?
My training agenda includes all the work of being an athlete: up at dawn to surf every day (and most afternoons too), gym work (strength and explosiveness training with Surfing Australia's High Performance Centre), and surf technique with my coach Clayton Nienaber. Along with meditation and relaxation, I try to keep 'play' at the heart of my training, whether that's running along the beach with my dog Taka, dancing like a banshee in the kitchen, or even taking deep ocean dives to practise breath hold techniques while on the lookout for dolphins or humpbacks.
CAN YOU DESCRIBE SOME OF THE FEELINGS AND SENSATIONS YOU GET WHEN YOU'RE OUT THERE, JUST YOU, YOUR BOARD, AND THE WAVES?
I think the first feeling is a sense of being completely present. You have to check in to the mood of the ocean – is it wild and windy? Calm and peaceful? – and any moment things can change. Sitting on your board at the back of the lineup, feeling lifted over the lines of swell, things come up to the surface; feelings, emotions, little dramas of the day, and the big questions about who you are and where you are going. Somehow being out in the ocean helps put everything into perspective.
WHAT IS YOUR MOST MEMORABLE SURFING EXPERIENCE?
The day a pod of dolphins, including babies, popped up right beside me! The waves were pretty big on a remote part of the coast and even though the dolphins (and other marine life like turtles and stingrays) are often around, this was the closest they'd ever come. It was eyeball to eyeball – and I almost jumped out of my skin in excitement!
TELL US ABOUT YOUR JOURNEY AS AN ENVIRONMENTALIST AND WHY IT IS SO IMPORTANT TO YOU.
I was born in the Andes Mountains of Ecuador, South America, where my parents campaigned to protect the forests and model sustainable lifestyles – so caring for the planet is second nature to me. I also sat on Mum's lap in front of crowds of people as we travelled all around Japan with the Sloth Club, which promotes a slow, small, simple and sustainable lifestyle. As I grew up, I always had a great passion to stand up and protect the places I love. So, being in the ocean, I started campaigning to protect the waves, including organising a big paddle to protect the Gold Coast as a World Surfing Reserve and becoming an ambassador for many great causes, including Surfrider Foundation, SeaTrees, Surfers for Climate, and SurfAid.
Surfing continually reminds you that you are part of nature. Waiting patiently for a wave that will always be different to the one before it, that may smash you or let you ride it so that time stands still – it's humbling and exhilarating all at once.
You understand it's something you can't control – even sharing the sea with apex predators like sharks makes you feel more connected and alive, it helps you get a healthy perspective on life and the choices you make. You begin to understand more and more about the ecosystem, watching the wind, tide and swells move and shift. And you start to notice the threats as well; the plastic and debris, the oil and gas drilling, the impact of climate change, the discarded fish tackle trapped in the rocks, the depletion of marine life and the changes to the ocean temperature. The ocean gives us so much, so it really is heartbreaking to think that future generations might not get to surf. That's why it's so important to protect and preserve the wild waters that we love!
THE OCEAN IS CONSTANTLY SHIFTING, AND CHANGES FROM DAY TO DAY, WOULD YOU SAY THAT THIS OFFERS A MESSAGE TO PEOPLE IN THEIR EVERYDAY LIFE?
Absolutely! This is the biggest and endlessly repeating lesson that surfing brings you, you can never be in complete control. You have to learn to trust, and even when you are dumped and held under, there is a lesson to be learned. You can't fight the waves or swim against a big current; you actually need to relax and breathe to be able to find your flow and make the best choices about the direction you want to go.
WHAT ARE YOUR FUTURE GOALS – SURFING OR OTHERWISE?
With surf competitions and overseas travel on indefinite hold, I've come back to the joys of free surfing and extending my knowledge and connections with the causes I feel so passionate about. My future goals centre around my purpose; beyond competitions and likes on social media, my 'why' is to explore and share stories of healing the ocean and the planet.
WHAT ADVICE WOULD YOU GIVE YOUNG PEOPLE WHO WANT TO LEARN TO SURF?
Take it slow and be kind to yourself! Grab a long soft top board and just get comfortable with being out there. I never learnt through a surf school, but don't be afraid to get some lessons. In surfing, everyone knows that the best surfer is the one who is having the most fun, so don't worry about what other people think – this is the most amazing experience, enjoy it! Learning with a friend or family member is so special, sharing those first moments is something unforgettable. I grew up with my brother as my surf buddy and look back at all the hilarious, scary, beautiful times we shared in the water.
WHAT ARE SOME OTHER ACTIVITIES YOU ENJOY OUTSIDE OF SURFING?
I love to sing with my ukulele, dance for a pre-surf warm up, play with my dog, and spend time in nature. Recently I have been doing these things and really enjoying falling into a meditative state; slowing down, focusing on my breath and trying to silence that sometimes wild chaos in my brain, to be mindful and set purposeful intentions but have a balance of peace. I try to live as simply and gently on the planet as possible – lowering my consumption and raising awareness for initiatives around the world that create positive change for the Earth. I'm constantly learning and growing with these different experiences and it feels so good to follow to your heart!