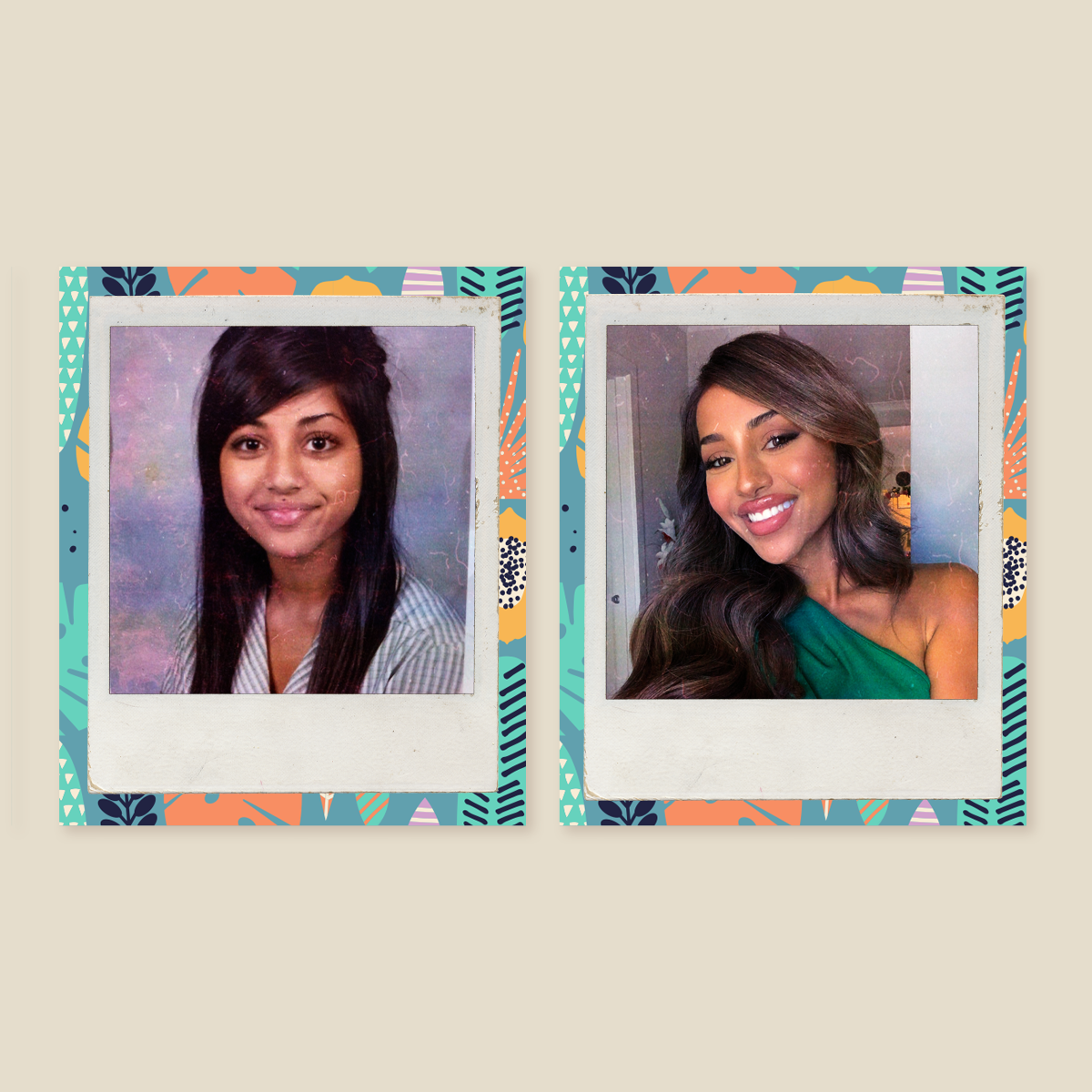 Indian-Australian model, speaker, holder of two degrees with honours, and Miss Universe Australia 2020, Maria is passionate about authenticity, inclusion, and self-love. The creator of the Instagram series Mind With Me, Maria keeps it real with her followers, and has ardent interests in philosophy, psychology, and self-esteem. These interests inspire her focus on creativity, motivation, cultural influence, and empowerment. Here are Maria's words to her teen self.
Dear Teen Me,
It's me – you at 15, but we're 27 now. I'm writing this because I know you don't tell yourself this enough: I am proud of you.
You rarely stop to appreciate your resilient mind, empathetic heart and creative spirit – so I'm doing it for you. The year is 2008 – and I know you feel that light isn't visible on the horizon. You wish your parents were more like 'other' parents, and that you didn't have difficult family troubles. I know you wear all that makeup to erase the things you don't consider beautiful. The bullying understandably hurts – I hear the pain in every forced laugh because you think you need to allow unkindness in order to fit in.
Because you blame your race, your face, your personality and your family for the mistreatment you experience, you've replaced your gentle nature with an overly loud persona. It's the armour you're building to protect yourself, isn't it? Because you just want to get by.
But guess what? You don't just get by, you thrive! You grow to realise that all your parents ever wanted to do was breathe faith into your ambitions. You end up meeting your true friends outside of high school and experience the galvanising power of surrounding yourself with kind people who inspire you. Leaning into your resilience helps you champion through seemingly insurmountable times.
You hone that love for listening and connecting and share your voice on social media… and an entire community rallies behind you. In fact, you take the stones thrown at you – the racism, bullying and sexism – and you use them to build an empowerment series where you speak to help young people – and service becomes your driving force. Most importantly, you changed the way you look at yourself.
So, while you wish away your present and seek a roadmap to a happier future, ironically the key is to practise gratitude in your present moments. Trust the timing of your life and live in faith, not fear. Sometimes you tie yourself to ideas about how things should be, but these expectations end up being the reason you hurt.
In life, things often don't go to plan, and what can look like an abyss of uncertainty is often the birthplace of opportunity. Start living as your authentic self. Stop telling the lie that 'you aren't enough'. Every piece of your history, every part of your being, and the amalgamation of your heart, mind, and vision is the universe in ecstatic motion. Live mindfully knowing that you're precious, and not to be battered into a mould. The key to happiness and freedom is knowing that you already are everything you wish to be.
So, until I see you again, there are a few things I want to share with you that I have learned about life since we were 15. In our quest for love in friendships and relationships external to us, we were liberated by the realisation that the most transformational relationship we have is with ourselves.
Experience taught us that every 'hardship' ended up being the gift of a lesson, and every 'rejection' was a redirection toward uncharted horizons – and your mindset is the difference between getting lost in or conquering it. We learned not to scale back on our dreams, because the fear of the 'what-ifs' isn't as great as the pain of regret.
Knowledge is power. Use it to not just take up space, but to live the fullest expression of YOU, because in doing so – you CREATE space for other people to shine. And finally, we learnt that our past doesn't determine our future, however, it's essential to shaping it. It affords us the chance to reflect, and with reflection comes enlightenment. And when we use this enlightenment as a guiding compass, we are unstoppable.
I'll see you on the flip side, darling. You're about to discover that you have the strength to turn your pain into power.
Lots of love, Maria
Find out more about Maria's world on Instagram @mariathattil