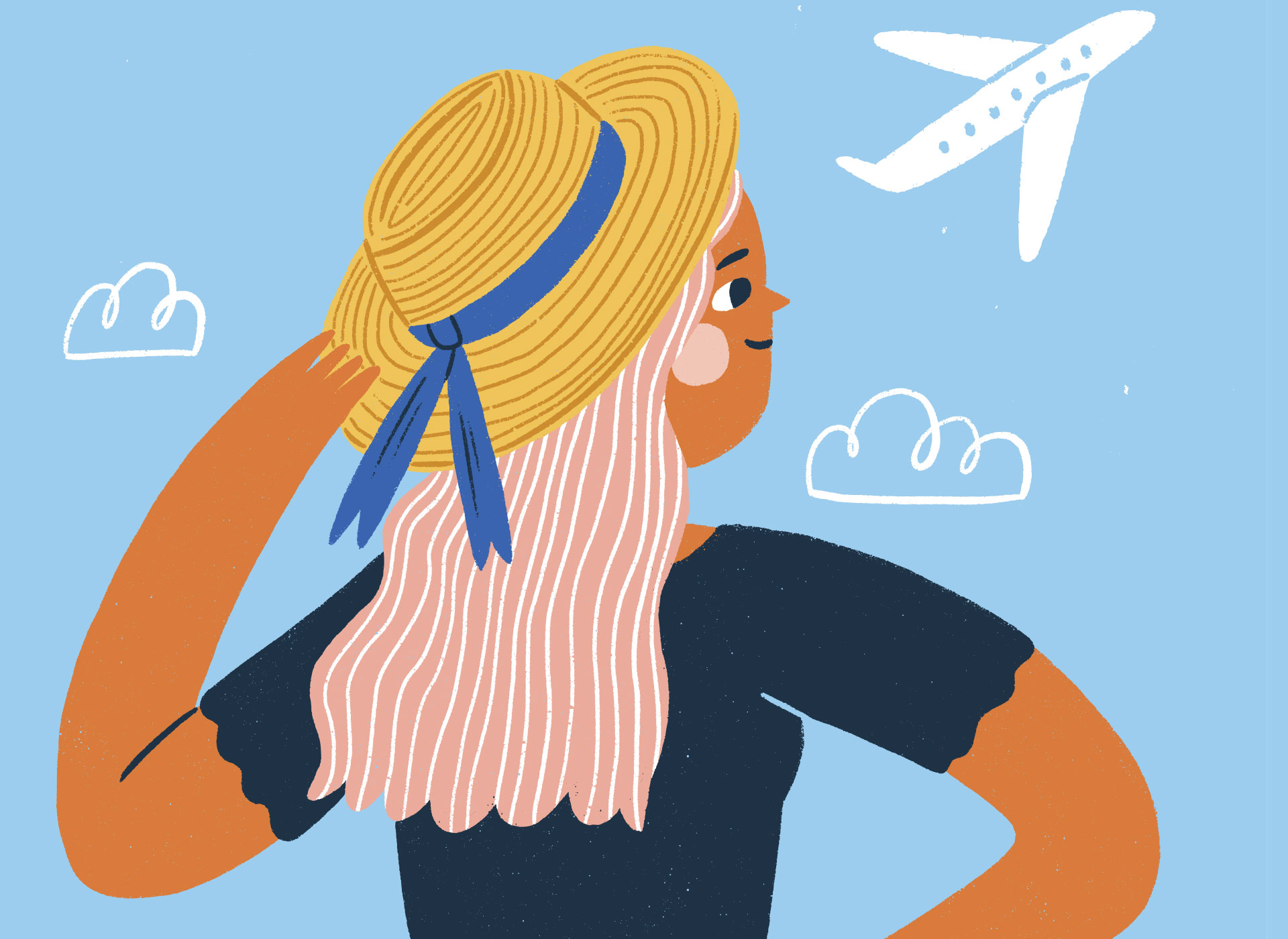 Try these tips for helping you deal with anxiety about flying.
Holidays are so exciting. You're flying through the clouds to a brand-new place – and you can almost see and feel the sand, sun and sights of your exotic destination. But not everyone feels this way. For some people, aeroplanes can spark feelings of fear. And it's even worse when the rest of your family looks forward to a few hours above the clouds while you're feeling so stressed. In fact, it can be almost impossible to communicate how you feel when your mum is happily watching movies, your brother is going through a stack of snacks and your dad keeps telling you to look out the window so he can teach you about the curvature of the Earth.
REMEMBER, A FEAR OF FLYING IS COMMON
It's important to remember that you're not alone. Research carried out by National Geographic found that 20 to 30 percent of people experience some level of travel anxiety, from mild concern right through to full-blown fright. This fear is called aerophobia, or flying phobia. It's very common. But safety statistics say there is only a one-in-11-million chance of being involved in an accident. That's reassuring in itself, right? So, the next time you're set to get on a flight, try these travel techniques that will calm your racing thought patterns – and get to your destination with a new sense of excitement.
1. BREATHE DEEPLY
It's common for nervous passengers to suddenly feel short of breath. Don't worry, it's a perfectly normal reaction if you're scared of flying. It happens because your body is in panic mode and your breathing speeds up, sending a message to your brain that something is wrong. Calm that anxiety by controlling your breath – slow it right down, breathing in through your nose and out through your mouth. Continue to breathe deeply throughout the flight, especially when you feel your chest tighten (usually during turbulence). The benefits can be almost instant.
2. DISTRACT YOURSELF
This might sound impossible when your seatbelt is fastened tight and the plane is making weird noises, but try to occupy your mind with something else. Watch a movie, listen to music, read a book, test your brain with a puzzle, draw, sketch or doodle. Maybe even try taking your homework on board! Anything to keep your mind from wandering back to those anxious thoughts.
3. VISUALISE THE DESTINATION
Lots of phobia experts recommend a technique called visualisation. Basically, you imagine yourself stepping off the plane after the flight, safe and sound. It's crucial that you really picture how it feels, how it smells, what you can see, hear and touch. Try to make the visualisation as detailed and real as possible, and don't forget the most important part: imagine a huge smile on your face.
4. SPEAK TO THE CABIN CREW
Cabin crew are trained to help and support fearful flyers, so pull one of the team aside at the start of your flight and share your concerns. Ask them to explain any unfamiliar noises to reassure you that everything is running smoothly during the flight and to remind you to keep using those distraction techniques.
5. ASK FOR EXTRA HELP
If your fear of flying is really upsetting you, or stopping you from travelling, then ask your parents if it's possible to talk to an expert who specialises in fears and phobias. There are also loads of helpful courses that have been tailored to help you combat your fear of flying – check out your local airport's website for more info.
6. IT WILL BE WORTH IT IN THE END
Fear of flying is one of the most common phobias, so don't worry if being in the sky makes you feel sick, worried or incredibly anxious. There's plenty you can do to make yourself feel better, from simple breathing techniques through to a detailed distraction plan – and it'll be so worth it when you step safely off that plane.