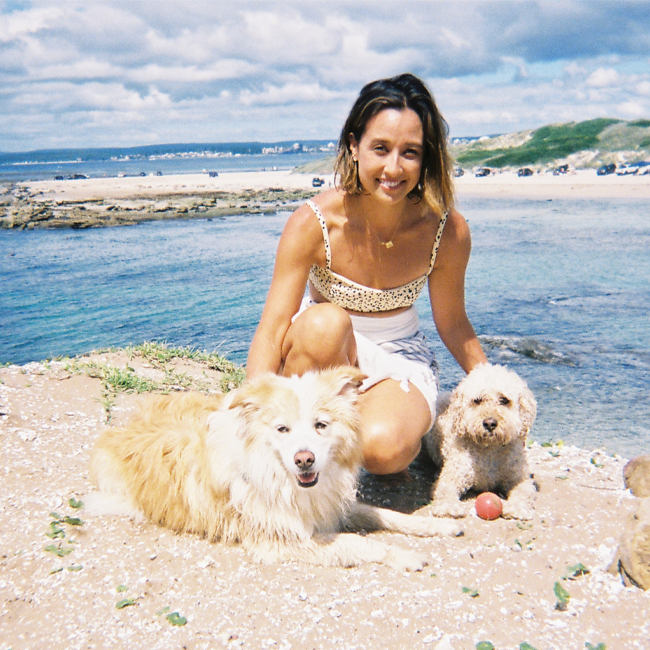 With a passion for travel, authenticity, and advocating health and wellness for young women, Teigan shares how she nurtures her own mental health while on the road.
With a jam-packed schedule of travelling for television show, Roads Less Travelled, Teigan Nash makes it a priority to carve out time to relax, re-energise, and just be. As a co-founder of the Girls Who Glow workshops, Teigan is a huge advocate for health and wellness for teen girls and makes sure she practises her own ways for nurturing her mental health while on the road and at home.
As part of Teen Breathe's Self-care Month, we spoke to Teigan about the demands of day-to-day life and how her daily self-care rituals help her to re-calibrate her mind and centre her thoughts. From practising meditation to diving into the ocean to wash the day away, you'll love Teigan's fresh, easy, and fun tips to de-stress and take some much-needed moments for yourself.
Be sure to keep reading to find out how to enter our competition to win a young adult book pack to help you on your self-care journey!
What does your day-to-day life look like?
My day-to-day is always different. I spent the whole of July and August living out of a suitcase travelling around Australia filming a travel show called Roads Less Travelled. Now I am back at home and each day is different. Some days could be complete admin days and I could spend hours in front of my computer, other days are more creative where I might be out shooting or going on adventures. But in saying that, there are a few things that always remain constant. I try to exercise regularly and make sure I am giving enough TEIGAN time. I need downtime where I can just to collect my thoughts and centre myself. That can be done through meditation, exercising, spending time with my fury friend, getting into nature, or having a super lazy day watching TV.
Describe your daily beauty and self-care rituals. How do they help boost your mental health each day?
I'm the kind of girl who washes her face with water, so I am probably not the best person to ask about beauty tips. If I am wearing makeup, I am sure to use a cleanser to take it off and then apply a hydrating vitamin C serum before bed. I don't believe we need to spend thousands of dollars on beauty routines, I think find what works for your skin and do that.
I do have a lot of non-negotiables for self-care. For me, self-care isn't just nourishing my body or just exercising. It's focusing on the mind too. Every day I make sure I am doing things to nourish my mind, body and soul, whether that be starting the day off with a meditation in the sun, going for a walk or a run, or making a nourishing breakfast. All of these things help me feel good all-round.
What are your top tips for starting out with beauty and self-care?
It doesn't have to be Instagram worthy. I think online there is a lot of pressure to meditate, do yoga, buy these products, and do things a certain way. It doesn't have to be like that. Disconnect to reconnect. Go for a walk without your phone. I often love running without music – I just really concentrate on my breathing. If you're just starting out though, try and change a habit a week. It could be as simple as waking up and not looking at your phone straight away. Try and move your body every day. Taking time for yourself isn't selfish – you need it to be YOU.
When you're having a tough day, what are your go-to ways to reset your mood and get back on track?
EAT SOMETHING or HAVE A NAP! Am I just hangry?? Haha! But seriously, sometimes we are running on empty and we can't function like that – no one benefits.
There were a couple of days on the road when I was filming where I was completely exhausted. Instead of pushing through and going out to dinners with the crew, I made sure that I took some me-time. Order in room service, have a shower to wash that energy away, get off my phone and go to bed. It's about noticing when you're not feeling good and figuring out what that means for you. If I have enough energy going for a run always helps but if I am too exhausted and tired, then rest is best.
What are your favourite ways to take time out for yourself to de-stress and recharge?
Anything to do with the ocean helps me. I am lucky to live right near the beach so the perfect recharge for me is going for a walk and jumping in the ocean. Also disconnecting from my phone. I can sometimes spend a lot of time on screens because of work but switching off or leaving my phone at home always helps me to recharge. Also laughing. Being silly and playing – connect with that inner child. You are never too old to play.
What hobbies do you have? Why do you enjoy them?
My boyfriend and I love taking the dogs out to the beach. We spend hours out there and it's not a 'hobby' but our ritual and routine. Every weekend, rain, hail or shine, we take the dogs to the beach have a big run around and jump in the ocean.
I also love being active, going on hikes, and running, and I just got a stand-up paddleboard which Dukey (my pup) absolutely loves.
What are five fun facts about you that people may not already know?
I live in a boathouse
I love being home
I'm an introvert
I'm half Chinese and half Australian
My star sign is Cancer and my Chinese horoscope is Snake
You can follow Teigan's adventures on her Instagram page @teigannash and you can check out her #DearTeenMe letter to her younger self by clicking here.
To help you on your self-care journey, we're giving you the chance to WIN 1 of 2 young adult book packs! This competition will be open on October 5, so make sure you go to our Instagram and Facebook pages at @teenbreatheau then to enter!