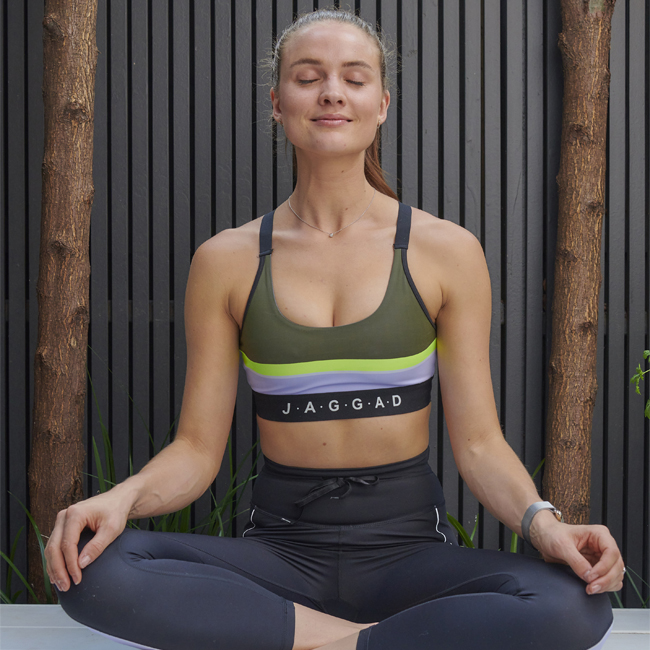 Passionate about sharing the message of health for young women, Laura chats to us about how she mindfully moves her body every day.
An innate passion to inspire and help people to live a healthy, active, and balanced lifestyle has been the driving force behind Laura Henshaw's success as a businesswoman. In 2017, Laura teamed up with her bestie, Steph Claire Smith, to create Keep It Cleaner (KIC) – a health and fitness business and app which has reached global success and now stocks over 100 food products in Australian supermarkets. And she's kicked a major personal goal too having just completed her law degree! She's also the proud owner of two adorable pups, Bill and Ben, which make regular appearances on her Instagram page.
While managing a thriving business and her studies, Laura has always prioritised her mental health. As part of Teen Breathe's Self-care Month, we spoke to Laura about the demands of running a business and how she incorporates mindful movement into her everyday routine to keep her feeling energised and strong – both mentally and physically.
Oh, and be sure to keep reading to find out how to enter our competition to win one of two yoga mats to help you on your self-care journey!
What does your day-to-day life look like?
Like everyone else in lockdown, my day-to-day life can be quite monotonous, however I am so grateful that Keep it Cleaner has been keeping me busy. I'm somebody who can often feel lost without routine, so I make a conscious effort to add in elements of 'normality' to my days at home. I always like to start my day off with movement, whether it be a KIC workout or a run. Then I'll shower, have a quick breakfast, and settle into work. Each day is so different and is always filled with collaborative Zoom meetings. I seriously can't wait for the day we can meet in person again!
After I log off from work, I'll take Bill and Ben for a walk with my fiancé Dalton and together we'll cook dinner. Dinner is almost always one of our delicious recipes from the KIC app. After dinner, Dalton and I will spend some time together without our phones, watching TV and relaxing with a tea in hand before bed.
Can you describe your daily health and fitness routine?
Movement makes me feel amazing. It energises me and keeps me feeling strong. It has been the one constant thing throughout the last 18 months. In saying this, I'm definitely not motivated to workout every single day. I make sure to listen to my body and move mindfully.
I am a morning exerciser. I always find myself exhausted after a big day of work and so the thought of putting on my activewear and smashing out an intense workout in the evening doesn't work well for me. In saying this however, going for a gentle walk in the evening with Dalton and the dogs is one of my favourite ways to wind down!
I also like to take time to prioritise my self-care and mental health. If I'm ever feeling overly anxious or struggling to sleep, I turn to the KIC app meditations. These have been a huge help over the last year with everything happening. They help to ground and refocus my mind.
How does exercise and being active help to boost your mental health each day?
Exercise plays such a huge part in looking after my mental health. Not only does my workout take my mind off everything going on and help me combat my anxiety, but it makes me feel refreshed, strong and accomplished. When I exercise in the morning, I find that it puts me in the best possible headspace to then have a super productive day. In all honesty, getting through a workout in the morning, even if nothing else goes to plan that day, makes it a good day for me.
What are your top tips for starting out with exercise?
My top tips are to:
Take it slow
Hold yourself accountable through connection and community
Plan your workouts
Don't compare your fitness level to anyone else
Remember your why
Understand the importance of rest
It can be absolutely daunting starting or coming back to exercise, but I just want everyone to remember to believe in themselves as we are all so much stronger and more capable than we think.
What are your tips for keeping up a fitness routine and staying motivated?
Staying motivated and in routine is hard and we often put pressure on ourselves to feel happy and full of energy all the time, but it's so important to remember that it's purely not possible. My top tips for those looking to build better habits are to:
Remember your why – that is why you are choosing to move your body
Pre-plan your workout
Workout at a time that suits you and your body
Choose a workout to suit your mood. Don't force yourself through a HIIT workout if your energy levels are low. Listen to your body and opt for a yoga or Pilates class instead.
When you're having a tough day, what are your go-to ways to reset your mood and get back on track?
I find popping on a short and sweet meditation from the KIC app a great way to help me refocus. Otherwise, just taking a moment away from my desk and my phone to give Bill or Ben a big cuddle.
What are your favourite ways to take time out for yourself to destress and recharge?
The best thing I do that helps me distress and recharge is take time away from my phone and be present. For work, I already spend so much time on my phone so it's really nice to just switch off and enjoy being present. I also love immersing myself in a good book before I turn the lights off and get a good night's rest.
We adore your dogs Bill and Ben! Although looking after pets can be a challenge at times, how do you feel that they help your mental health?
Aw, what a special question. Our dogs truly make the most positive impact on my mental health. I find they get us out of the house more as we walk them every day and they're always up for a hug. Pets are so wonderful and bring so much joy to our lives.
What hobbies do you have? Why do you enjoy them?
Answering this question has made me realise, I probably need a new one! I have recently finished my university studies, and so that filled a lot of my spare time outside of KIC, and now that I have finished, I haven't filled it in with anything. I love reading and learning new things and find them both really fulfilling. And, of course, spending time with friends and family!
What are five fun facts about you that people may not already know?
I was once a DJ
I went on exchange when I was 16 and lived in France for six weeks – I used to be (almost) fluent!
I have horrible handwriting
At one stage in high school, I had aspirations to be Prime Minister
I have only ever broken one bone – my pinkie toe
The Keep It Cleaner app is available through the Apple App Store and Google Play for $19.49 per month and includes a 7-day free trial.
To help you on your self-care journey, we're giving you the chance to WIN 1 of 2 Yogi Peace Club yoga mats! This competition will be open on October 12, so make sure you go to our Instagram and Facebook pages at @teenbreatheau then to enter!