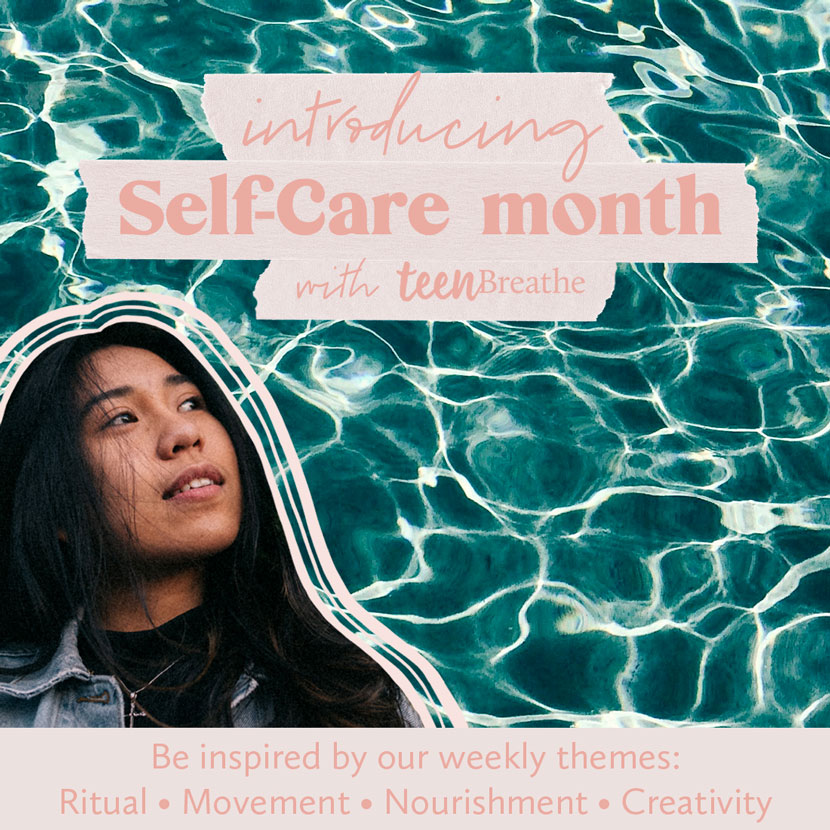 Welcome to Self-care Month, Teen Breathers! We're excited to be dedicating the month of October to inspiring you to nurture your mind, body and soul, while having loads of fun along the way! Our sister magazine, Breathe, will also be joining in on this self-care journey, which is in recognition of World Mental Health Day on October 10.
On our website and social media pages, we'll be sharing a series of Q&As with inspiring influencers, self-care tips and advice, exciting competitions, and fun activities to help raise awareness about mental health and wellbeing.
Here are the weekly self-care themes that we'll be exploring with you:
Week 1: Ritual - Discover TV presenter Teigan Nash's daily rituals for disconnecting from the chaos of life
Week 2: Movement - Co-founder of Keep It Cleaner Laura Henshaw will share her tips to get your body moving
Week 3: Nourishment - Vegan chef Anthea Cheng will share the mental health benefits of cooking up a storm
Week 4: Creativity - Watercolour painter Katie Thomas will reveal how being creative can help to boost your mood and calm your mind
Make sure you're following us on Instagram and Facebook at @teenbreatheau for upcoming Self-care Month announcements and competitions, too!
Throughout our Self-care Month, you can also enjoy a complimentary Lovatts mindful magazine of your choice* to gift to a loved one or keep for yourself with a new or renewing subscription to Teen Breathe or Breathe. To redeem this offer, click here.
*Bonus issue magazines include: Breathe, Teen Breathe, Nourish: plant-based living, Mindful Puzzles, Mindful Parenting or Inklings.
We hope you're as excited as we are for the month ahead, and we look forward to helping you learn and create new and helpful ways to nurture and boost your mental health. Enjoy!
Anthea Cheng a.k.a. Rainbow Nourishments gives us an insight into her world of baking and what it's like to cook – and eat! – for a living.
Upcoming Stories