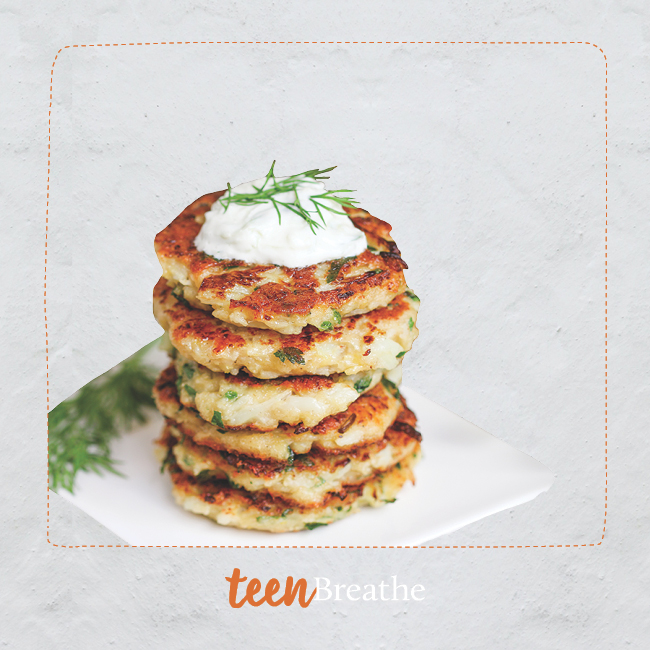 Try these nutritious and delicious herb-packed fritters.
Serves: 4 as a starter or a snack
Prep time: 20 minutes
Cook time: 25 minutes
Ingredients
FOR THE FRITTERS
FOR THE TZATZIKI
Method
Steam the cauliflower for 6 minutes, then place in a bowl and crush lightly with a potato masher. Add the salt, pepper, lemon zest, parsley, chives, flour, garlic, parmesan and egg. Mix together and scoop out a heaped tablespoon. Roll into a ball in your hands, squash flat and place on a plate. Repeat until you've used all of the mixture. You should get 8-10 fritters.
Heat the oil in a large frying pan on a medium heat. Working in two batches, fry the cauliflower fritters for 3-4 minutes, turn over and fry for another 3-4 minutes, until well browned on both sides (keep the first batch warm in an oven on low temperature).
While the fritters are cooking, make the tzatziki. Peel the cucumber, slice in half lengthways, then scoop out and discard the seeds using a teaspoon. Grate the peeled cucumber, then squeeze out the liquid using your hands. Place the cucumber in a bowl and mix in the Greek yoghurt, white wine vinegar, dill, garlic, honey and salt.
Place the fritters on a serving plate and top with some of the tzatziki and a sprig of fresh dill. Serve with extra tzatziki.