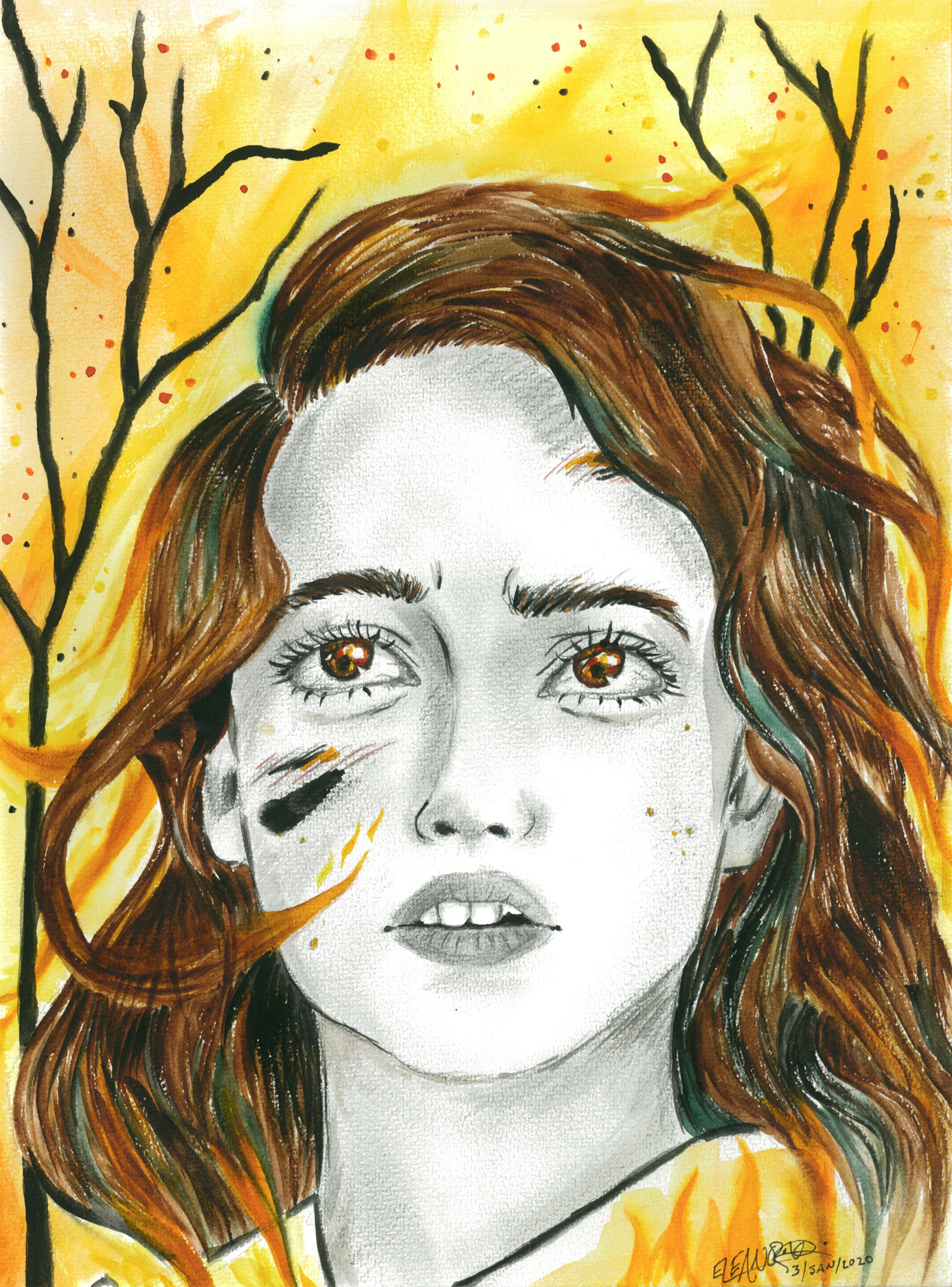 13-year-old Eleanor shares her artwork and personal response to the bushfire crisis.
Every Australian feels the seaside in their heart or has a memory or two to share.
Unfortunately, if you have turned on the news, glanced at the front page of a local newspaper or refreshed your feed on Instagram – chances are you've stumbled upon the likes of 'New Years disaster,' 'Thousands flee fires on South Coast,' 'Navy helps evacuate the stranded,' or 'Nearly 500 homes lost over New Year period'.  And for my family, this was a New Year to remember.
Like every year, my cousins planned to spend the holidays at Rosedale Village on the South Coast of NSW. They knew that the fires were looming, however they never guessed that the ferocious, blood-orange monster would head towards the area in such a hurry. Luckily, with a few woollen blankets, food/water and a few valuables they were able to escape in the nick of time.
Hours away from the catastrophe, waiting to reach its peak, we tried contacting our family who were currently escaping the blaze and heading for an evacuation centre. This was proving harder and harder as reception grew scarce.
What mattered most was that they were safe and sound and had made it through the closed highways. With her last few bars of reception, my aunt rang my mother to give an update. They had been directed to the Batemans Bay evacuation centre, nervously anticipating as the fires came closer and closer to them.
'The sky is bright red orange, and it's extremely dry,' she stated across the phone to my mother. 'The fires are making their way towards the beach house… The telephone tower has burnt down… There are people stranded on the beach at Rosedale watching their homes burn to the ground.' I was enforcing my typical eavesdropping skills to try and make out the details and paint a picture in my mind of this disastrous and distressing event that began on New Year's Eve.
I could only imagine how catastrophic the conditions must have been. And being a teenager, like many others in Australia, I was anxious. As you get older and pay more attention to the world around you, you begin to work out how chain reactions can arise.
Climate change increase. Dry conditions. Fire level increase. Thousands of homes and animals lost. Crisis for insurance companies…. Then what? This is a completely normal thought process for any young adult. It is normal to display emotions and realise that you are preparing yourself for what could happen next.
My family has always had this connection to our beach house, settled in the bush with a small wooden deck and silky-oak walls. I can remember almost every visit to this place – ever since I was a toddler. I walked over to my mother who was particularly quiet, just like the rest of us. We all had to expect the worst and hope for the best. We have our memories of this house forever. We have not lost everything, unlike so many others.
I am aware that some people lost family members, pets, homes, holiday houses, cars and livestock. Some of our friends lost their homes and the sorrow that this country has displayed for this natural disaster is tangible. I have been glued to the news for the past couple of weeks and have admired this one part of the disaster: The worst of times can bring out the best in any individual and the community.
Countless people have come together, doing the best they can to provide comfort, food, water and a safe place to stay for the families and locals affected. Strangers lending other strangers a hand because they've all just survived together. This human emotion – empathy – is instilled in every one of us: the ability to understand and share the feelings of another.
It seemed like it was only yesterday that the sky was jet black with smoke on the south coast of NSW, and my cousins and a fair few others only just made it through what has been characterised as 'Armageddon'.  Our family beach home managed to survive – with the fire deciding to stop five feet from the house. Some of our neighbour's places didn't make it, fallen to the dirt in a burnt, rustic blanket pile of tin and ash.
I feel an overwhelming mix of guilt, gratitude, and empathy. I'm sure most of us have displayed these emotions at one point or another, but what's important is that we acknowledge these emotions, especially in these catastrophic times we are currently facing here in the country of fire and flood.