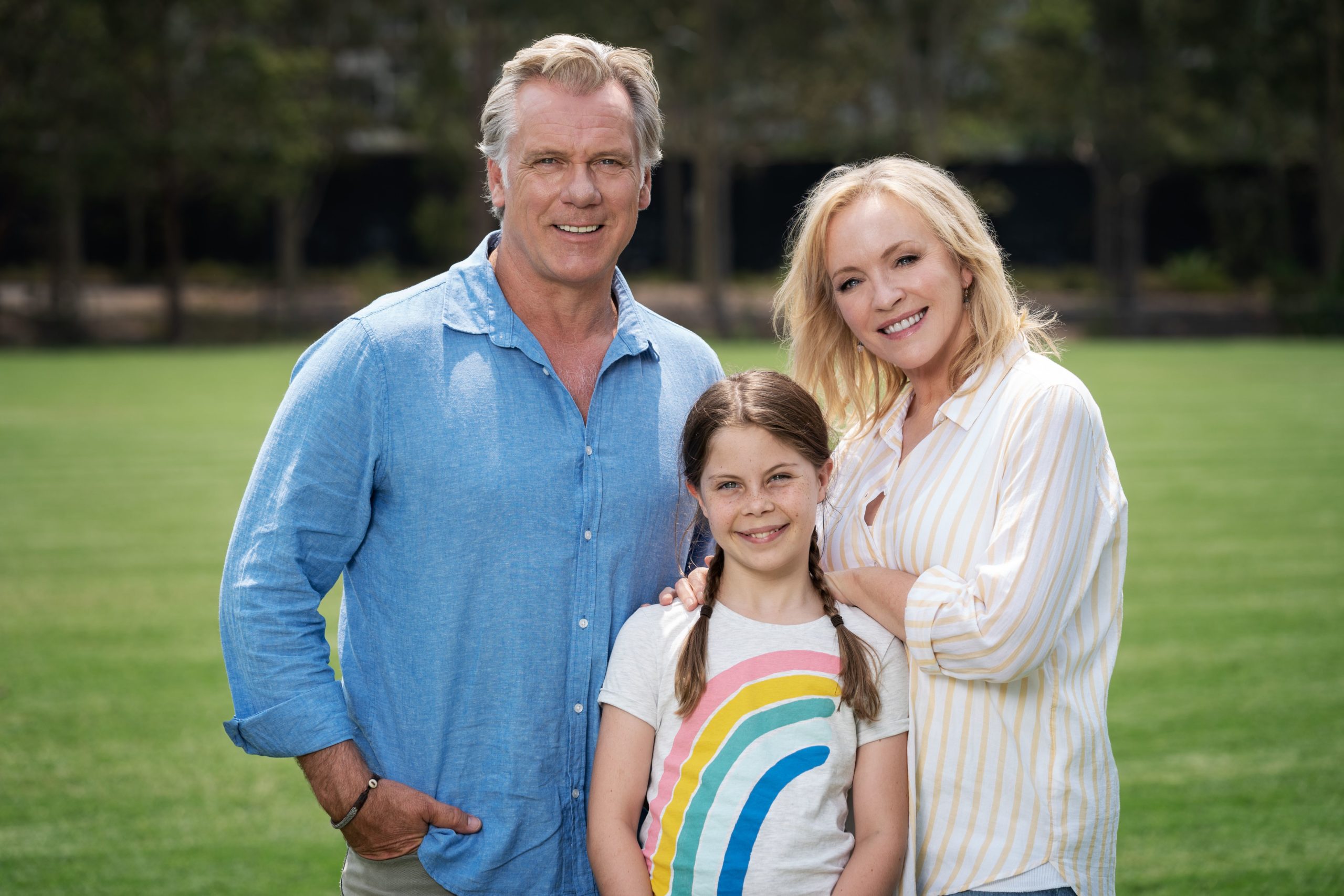 Back to the Rafters star Willow Speers chats with Teen Breathe about all things acting, getting into character, and balancing life on and off set.
First off, congratulations on your exciting acting career! It must be a complete dream come true for you. We'd love to hear the story of how you first got into acting.
Thank you so much! Yes, it is definitely a dream come true! Getting into acting was something that I hadn't planned. My auntie sent my mum a message about an audition she saw for a girl to play the role of young Michelle Payne in Ride Like a Girl. I was just hopping off the bus when my mum said "Hey, do you want to be in a movie?" and of course I said "Yes!" and so we sent in an audition and a week later I was flying to Melbourne to meet the director Rachel Griffiths and having the time of my life pretending to be a completely different person.
For me, acting isn't just saying lines and making faces. I feel the character, I know her. I am her. I make sure I know her whole back story. What school she goes to, if she has many friends, pets and simple things that help me become my character.
What was your first audition process like? Does it get easier over time?
My first audition was kind of scary! I was super self-conscious and wondered if I looked silly in front of other people. I was honestly worried that they would judge me.
But over time, I realised that I don't really have to worry about it because it's not me yelling at my dad, it's not me cuddling my mum, it's not me doing any of those things. It's my character! After that, I became more confident in my auditions knowing that I was only a vehicle for the character's being until she got to play her part.
My mum also taught me something really useful. Every time you audition, it's like you're a puzzle piece, and the director is looking for the pieces to fit the puzzle. So, if you don't get it, it just means is that you weren't the right piece for that puzzle and you just keep going until you find the puzzle you belong to.
You've recently joined the cast of Amazon Prime Video's Back to the Rafters – congrats! How has it been working with the cast and crew on the return of a well-loved Aussie show?
I feel so blessed to be a part of such a magical experience and be welcomed into the family of not just the cast, but everyone that helped create this hilarious and heart-warming show. I was a little nervous at first because most of the cast knew each other, but everyone was so kind and welcoming, just like a real family and I felt like I had known everyone for years.
A really special moment was my first day at rehearsals when I met Angus McLaren (Nathan Rafter) who also played Lewis on one of my other favourite shows H20 Just Add Water. I was so excited! He is just as kind and supportive in real life and he took me under his wing to learn the ropes and offer support whenever I feel a little overwhelmed. I am so grateful that all the cast and crew have welcomed me in just like I was their little sister or headstrong daughter in real life.
Tell us a bit about your character, Ruby, and what your process is like to prepare for this role?
Ruby is quite the activist! She wants to make the world a better place to live in and in her opinion, having babies is not the solution! Although Ruby loves to take charge, she's also kind and won't let anyone tell her she can't do something that she really feels passionate about!
I love playing her character because she's a lot like me. We both have two older brothers and an older sister with a big age gap, we've both gone on long road trips, we love animals and being outdoors and we both want to make the world a better place.
Walk us through a day in the life on set.
Working on a real live set is pretty amazing. It's a whole lot more than just 'lights, camera, action!' It's more like a school of fish and we all work together to achieve a goal because we all know a body has many things that work to make it run properly. For example, on set alone there are probably around 100 people all working to create the best outcome.
Usually, you will have 1 or 2 cameras filming at the same time and about 4 or more people reflecting light onto the actor's faces. There are people who make sure that the actors' look exactly the same every time you do a take because the director might like the beginning of one take and the end of another. There are people touching up make-up and special effects and the director who gives feedback and tells everyone what to do and where to be. And that's only a handful of the many people you need to run a scene!
What has been your favourite moment throughout this whole experience, whether on or off screen?
I have to be honest and say my favourite part was having ice cream at lunch every day! And peanut butter sandwiches. Every day, the caterers would make me special peanut butter sandwiches because they knew that I loved them so much.
And I also loved exploring and becoming the character so much that I couldn't wait to film the next scene and find out what happens next. I loved meeting new lifelong friends that I can be myself around and have a second family.
When you're not behind the camera, what do you like to do to unwind and have fun?
I love to write poems and songs and I am always walking around our property singing at the top of my lungs or coming up with crazy pranks to play on my dad. Me and mum can get pretty silly together but he's always a good sport. My dog Millie is my best friend and I spend a lot of time teaching her tricks and playing games with her.
And of course, there is 'Ice Cream Friday' each week at a local ice cream shop in the Hawkesbury with my family.
I also love to read and watch movies and I love to spend time with my friends and family and play with Ash, my cute little seven-month-old nephew.
Aside from acting, tell us about some of your other passions!
I really love to draw and paint and I'm lucky enough to have a special place in my home just for artistic stuff. At the moment I am doing paintings onto plywood and then cutting them up to make puzzles. It's really fun. I also do gymnastics, horse riding, singing and I'm learning to play the ukulele. And I'm currently giving myself some dancing lessons and my teacher (me) says I'm doing great…
What has it been like balancing your TV career with your schoolwork?
Last year I did a few acting jobs in a row, and I fell a bit behind in my schoolwork, so I had to have some tutoring to catch up when we finished filming. I sometimes have a tutor on set which can be hard work when you have to do school in your rest times but it's worth it. I am lucky that I usually pick stuff up pretty easily so it's not that big of a deal.
Tell us about your animal friends back home! We'd love to hear your favourite stories of growing up surrounded by so many critters.
My favourite game is to see how often I can sneak chickens into the house before mum notices. Last week I managed to get through the whole day of home-schooling with a chicken on my lap without anyone noticing. And the other day I got three new hens and kept one in my bed overnight and mum still doesn't know.
Growing up on a rural property means that it can be hard to see your friends because everything is so far away. I think I'm very lucky that my parents have always let us have lots of animals so that I don't get lonely.
Over the years we've had goats, horses, dogs, cats, a snake, frogs, fish, a blue tongue lizard, birds and a whole bunch of chickens.
The goats are always wanting to get the grass outside the fence and keep getting their heads stuck so we always need to go out and free them. It takes ages 'cause they have these big long horns. And then they straight away get stuck again. Dad says they aren't very smart.
Millie, my short haired border collie however, is the smartest dog in the world. She's an amazing sheepdog who currently herds our chickens whether they like it or not and she can climb ladders, run mazes, go down slippery dips and jump on the trampoline. She also loves to save rocks and hide them all over the house.
You grew up in a rural NSW community. Tell us a bit about what that was like and how you found the transition from the quiet countryside to the busy world of television?
Growing up in a rural community is amazing. It's great to go to our local shops where everyone is your friend and we all look out for each other. Recently we all got flooded in and everyone made a big pantry in the park so we could all go and swap anything you had plenty of for anything that you needed to cook or get by until we could get out to the shops again. Our community here is like one big family where we all take care of each other.
When we were filming Back to The Rafters, we were often in big cities with lots of houses and skyscrapers and people everywhere! It was crazy walking through the streets and shops with all those people, but I absolutely loved it! There were so many places to buy clothes and lollies and toys and hot chips and so many people to talk to! At first, I was a bit worried that we would get lost but everyone was really kind and happy and I can't wait to go back again.
Do you have any tips on how to stay balanced and mentally healthy during your busy schedule?
I think I'm lucky that my mum is a Hypnotherapist and has given me lots of tips on how to stay mentally healthy as an actor. One of the things that I do is that I always make an Avatar of my character so that I can step into it before filming and out of it again when we finish and then my mind knows that all those thoughts and feelings belong to the character and not to me. It's been important for me to be able to separate myself from some of the big feelings and experiences that my characters have had and this has been a really good way to do it.
As a kid on set, I think the most important thing is to have someone to talk to when you are uncomfortable. When you are filming it can get really hectic. All the grown-ups know who to ask if they have a problem, but as a kid, it can sometimes be overwhelming. So, at the beginning of any job, I find one of the cast or crew and make a deal that I can ask them to help me if I am unsure or feel worried about something and I don't know what to do about it. We even set up a secret signal that I can make if I'm feeling really uncomfortable or need to go to the bathroom or just need a break and then my buddy asks for a break so that I don't have to do it and that helps me to feel really safe.
What advice would you give to fellow young people looking to pursue their dreams in acting?
Have fun. Playing make believe means you get to be a kid for the rest of your life so remember to have fun!
I also think it's important to go to classes and keep learning. Feedback is important. It's not criticism, it's an opportunity to learn how to be even better. So, learn to love feedback. And when you go to class or attend a workshop, you're also with the people that can give you the opportunities you're looking for.
And if there are no opportunities, then make your own. Write your own scripts. Film IGTV videos. Make a YouTube channel. It's so easy now that we all have cameras and social media. Make movies with your friends and find people who love to do what you do as much as you. It doesn't have to be perfect, but you will learn all about filming and angles and editing and lighting and sound.
So, if you love to act, just act. No-one can tell you that you can, or you can't or that you're not good enough. Just keep being you. Being yourself is the most important part. Learn to love being you and knowing that you are a perfect fit for a puzzle out there somewhere. You WILL find your puzzle and it will be so much more fun if you just be yourself.