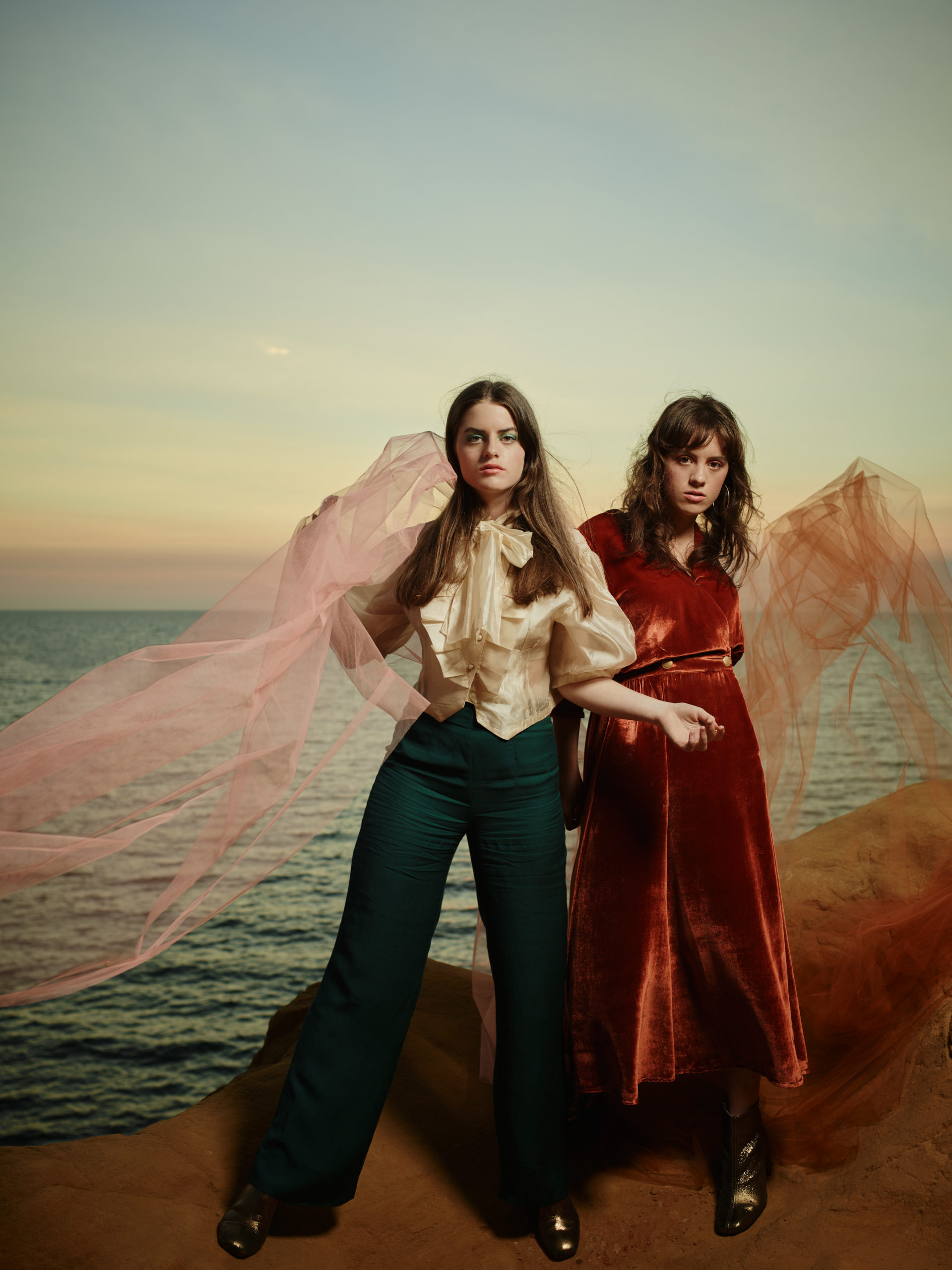 Meet the musical 'sister duo' from Melbourne who've been playing gigs and music festivals around Australia since they were 11.
Describe yourselves…
Our names are Mabel and Ivy Windred-Wornes, and we are a sister duo called Charm of Finches, based in Melbourne. We write our own music, a style we like to describe as contemporary folk/pop. We've been playing gigs and music festivals around Australia since we were 11 and 14 and have recorded three albums of original songs.  We like to play all the instruments on our recordings; guitar, banjo, piano, ukulele, cello, violin and glockenspiel. We love having full creative control over our music business, creating our own sound, coming up with the styling of our photo shoots as well as the stories and design of our music videos.
What inspired you to start your music dream?
We have been singing together all our lives and grew up going to a Steiner school where we sang folk songs in class every day from prep all through to high school. We listened to a lot of folk music at home too and as kids we were so inspired by the three girls singing harmonies on the O' Brother Where Art Thou soundtrack. We were inspired to busk with a friend outside the veggie shop where our dad worked, singing three-part harmony folk songs when we were eight and 11 – we were called The Highway Sisters. Busking is a great training ground for musicians, as well as a brilliant way to raise money for your projects.
In year six, Mabel wrote her first song, after being encouraged to write a song as a farewell to her primary school class. She taught herself guitar and then I (Ivy) joined her, adding harmonies. When we found out that the Swedish sisters First Aid Kit made their first CD in their teens, we were inspired to pursue music professionally.
What's your artistic process?
Our songs are inspired by our experiences as young women. A song may emerge out of intense emotions or experiences, they may come out of an intentional process of exploring poetry writing using our melodies, or even pages from our favourite books! Sometimes we write songs together, sometimes on our own, and then we'll take it to the other to add harmonies and make suggestions. Our last album Your Company came out of a difficult time in our lives when one of our best friends passed away at the age of 14. We've spent years processing this grief and songwriting has been a great tool to bring something beautiful into the world out of such a tragedy. We've loved connecting with people through our music.
The creative process doesn't stop at songwriting. Creating album artwork, photos and making music videos is a huge part of what we enjoy. Our music video for Lies is a perfect example of how we get fully immersed in the whole creative process. Inspired by our love of pre-Raphaelite paintings, we wanted to pair the dramatic lighting and beautiful regal dresses with this dark emotional song about the negative side of social media. We went op-shopping, found vintage wedding dresses, and dyed them both dark blue. The video also features big Marie Antoinette hair, Victorian styled interiors, lavish jewels (also from the op-shop) and a table laden with a cornucopia of fruits and flowers. We even got to spill some (fake) blood in the video clip. We love getting our friends to act in our music videos with us and this makes it super fun!
What long term goals do you have?
At the start of this year, we travelled to New Orleans for the Folk Alliance International Conference to start planning our international touring career. We had planned to be overseas playing shows in the UK and Europe this year. Due to COVID-19 those plans have obviously been postponed. We aim to keep writing songs and developing our craft as musicians and we are currently working on our third full-length album.
What advice do you have for other young people who have big creative dreams?
We'd say just work hard and stay creative and playful! Reach out for opportunities and think of your product, whatever it may be, as a worthy gift to share with people. If you want to pursue music or any creative passion, practise your craft. Keep exploring and honing your skills and try to find your own voice in your work. If it comes truthfully from you, people are sure to connect to it.
Aside from your music, what do you love doing in your free time?
Ivy is really into film making and editing. Our Lies music video was actually her year 12 media project. In her spare time, she loves to crochet and tend to her hanging garden.
Mabel loves theatre acting – particularly Shakespeare. In 2019 she performed with the Australian Shakespeare Company Graduate Players in Prague playing the role of the hip-hop villain Borachio in a modernized Much Ado About Nothing. People truly believed she was a bloke! In her spare time she likes to do yoga, or draw with a cup of chai tea by her side.
Even though songwriting is our job, we get so much from it on a personal level. Songwriting is such a therapeutic thing to do; sitting in the sun strumming the guitar and singing whatever comes into your head or recording little melodies on voice memo late at night.
facebook.com/charmoffinchesband
Photography: Kristoffer Paulsen