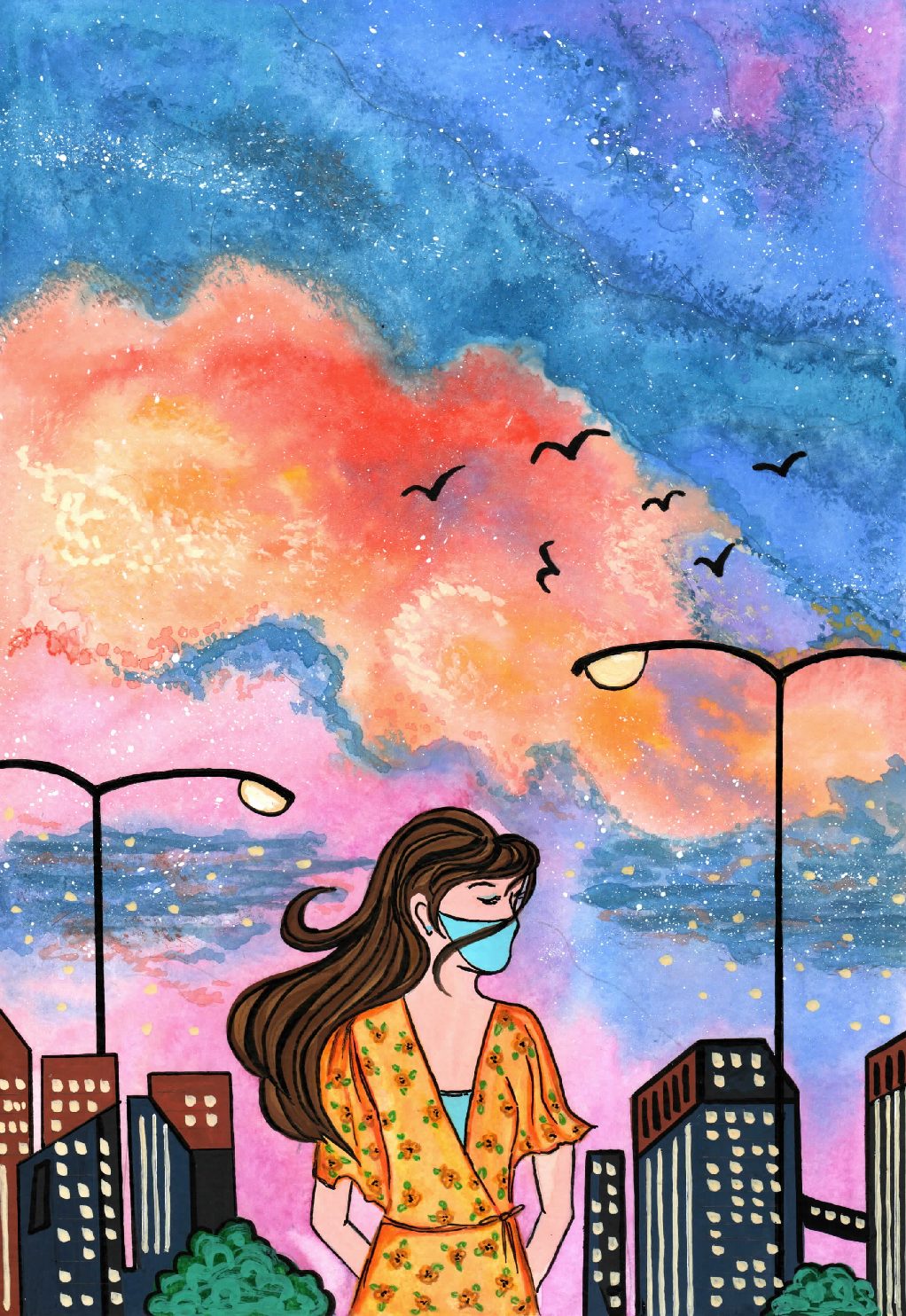 Ksenia has created an artwork which illustrates how she feels about the 2020 Covid-19 lockdown in Melbourne.
2020 has been a very tough year for all of us, from bushfires, droughts, and then a global pandemic. Living in lockdown or quarantine has been a new experience for many of us. Not only is it a new experience, but it can also be quite stressful, confronting, lonely, and even boring at times. Many people feel like their freedoms have been taken from them.
My painting reflects my feelings of loneliness during lockdown. We are socially distanced and physically isolated. Though we are still connected through the internet and our devices, we can still feel like we are alone since there is barely any human interaction, unless you live with someone else.
The sky is a central idea to this piece as it is painted more colourfully than other areas, highlighting the fact that there can be benefits of this lockdown – for instance a deeper appreciation and connection with nature. The yellow dress that the girl is wearing symbolises the spark of optimism and hope that she has, having thoughts of a brighter future ahead of us after this pandemic passes.
If you were to ask me what I thought about the current events, I would say that it's a bit of a mess at the moment. However, I believe that there will always be a way through it if we work together. During this time if you find yourself at home with nothing to do, I recommend you try out one of these three things: hobbies, start an online course, or complete projects that you never found the time to before.
Get into hobbies
Since most of us are stuck at home, I think it's a good time to immerse ourselves in fun hobbies. Many of our lives are either full of school or part-time jobs, and we don't often find the time to do things we enjoy. This is the reason why lockdown could be a great opportunity to do things that you like to do. Here are some examples: painting, drawing, knitting, playing an instrument, working out, playing board games with family or even by yourself. For me, I've been spending most of my time playing piano, playing solitaire and painting (as seen in the photo).
Start a course
In addition to engaging in hobbies, you can also start an online course – like a photography workshop. This can either be for pure enjoyment, or you can study towards a future job, or use it as an extra skill. From asking all of my friends and hearing from other people, most people aren't usually motivated to study. Yet, since we have more time at home, I believe that right now is a great time to start online courses as in the future there might not be time to.
Tackle projects
Considering you now have some spare time – and in future you may not have as much – why not tackle home projects that you've never found the time to complete? For instance, a deep clean of your house or room, reorganising folders, making a photo wall, designing furniture, or making plans for the future – 2021 birthday party planning perhaps? – so you can get ready to do things without worrying about what to do when restrictions have eased.
Words: Ksenia Cosmo, 16