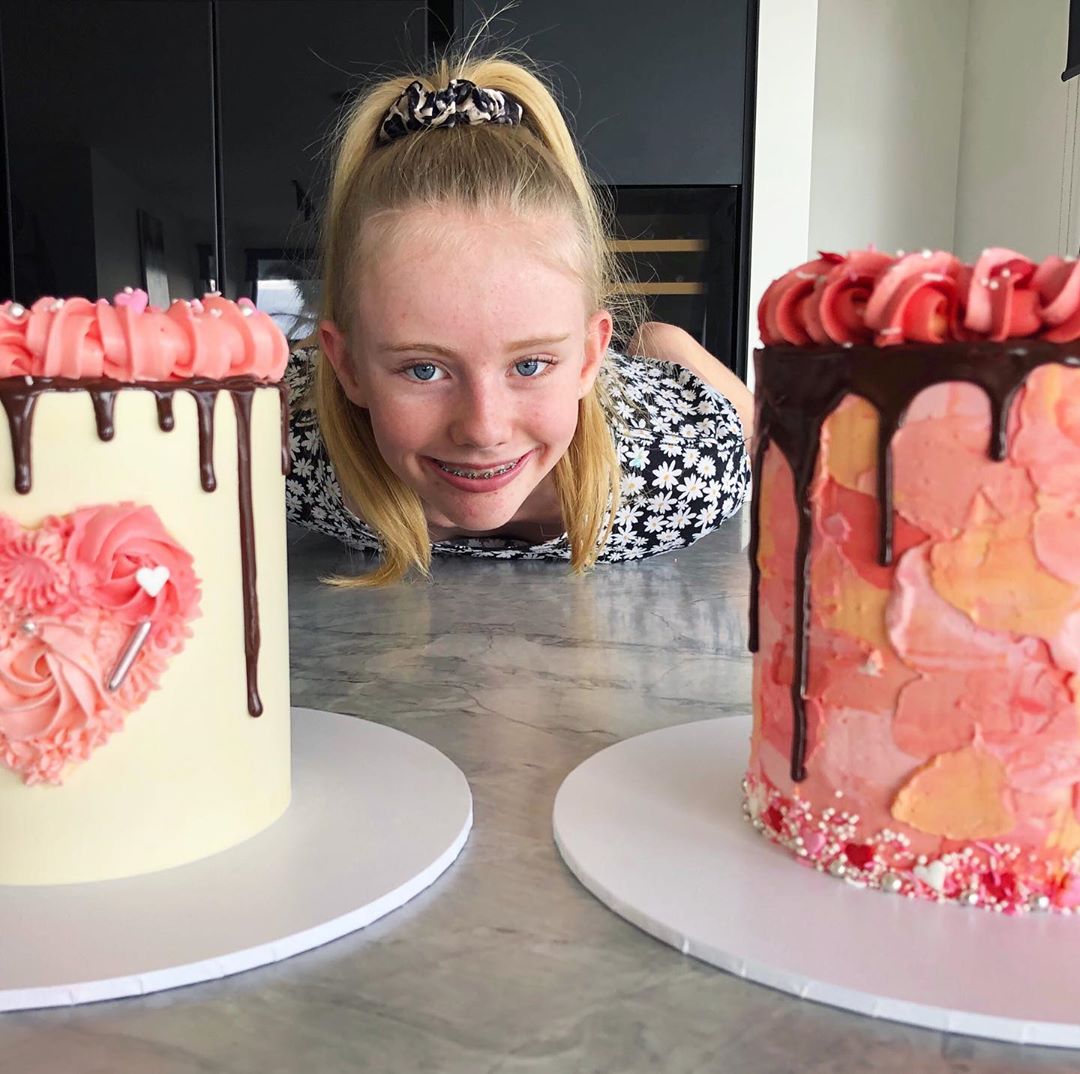 Ceara started her beautiful cake-baking business at 12 – after being inspired by her grandma, who was a professional baker.
Describe what you create, your process of design, and how you sell.
Ever since I was little, I have always loved baking. I was inspired by my grandma, who was a professional baker, and discovered my passion for it in Year 1 when we would do cooking in our maths class. I have always been fascinated by science, which has made me so passionate and interested when it comes to baking with all the amazing chemical reactions that form! I started my business first with family, then friends, then friends of friends, and eventually strangers! I got to this stage in January 2020, as I decided to raise money for the terrible bushfires that happened by accepting non-for-profit orders. I was bombarded with inquiries and was so grateful for all the support I got and especially the small difference it made. I raised over $800 which was then donated to Zoos Victoria.
What was the most fun part of starting up?
Starting a business is so fun! I love looking at other people for inspiration and creating my Instagram and Facebook page (@ceara_bakes). I think it is really important to invest your time in the things you love doing – and if it gets you a bit of money along the way, that's a bonus!
What do you still enjoy working on, and why?
I know that cake decorating never gets old – a cake can never be perfect, so there's always a chance to improve next time, which is something I love about it! I get my knowledge from binge-watching pastry chefs on YouTube, getting inspiration from Instagram, and expressing my artistic abilities.
Who has been the most help for you?
I had a lot of support through my mum, who helped me start up by firstly paying for the ingredients, as I was on a tight budget. Eventually, as I got more orders, I could pay for the ingredients myself, however, I struggled on understanding how much my cakes were worth, compared to other businesses, especially since I was only young. So I reached out to some lovely cake business owners for advice, and I eventually grew more confident with charging the right amount and knowing how much I was really worth.
What new skills have you learned, and how?
I have always been a perfectionist and I think going into cake decorating has allowed me to use it to my advantage. Every cake that goes out of my door has to be something I am proud of and something that I would love to have as well. I like to treat every cake or cupcake with the same attention and detail. I have also learnt organisational skills by managing my orders and keeping dates of when I need to bake things. I use a spreadsheet where I can track what needs to be baked, what is done, how much I am spending and how much profit I have made.
Describe the plan you have for your business. What long term goals do you have?
In the future, I hope I get my name out there as a young entrepreneur and eventually even sell my own products! It is a goal of mine to get verified on Instagram and even go on Masterchef someday! When I am older, I hope to be a food writer, food critic or pastry chef, and maybe have my own show teaching people about desserts and cake decorating? We'll see.
What advice do you have for other young people who have dreams of starting up a business?
Firstly, no one is ever too young to start up a business! I think that the most important thing is to be patient – Businesses don't blow up overnight! Start with family, then friends, then friends of friends and eventually you will grow more and more as you get your name out there. I have learnt that sometimes, you also have to be open and prepared for a few to turn around and say it is too expensive. There is no point in undercharging from the fear of people saying that. You are worth it!
Aside from your work, what do you love doing in your free time?
I have always enjoyed art – I love drawing and painting. I also love anything sporty – am in the Australian Karate Team and won gold in the Australian Schools Karate Championships, silver in the Australian Open and Bronze at Nationals. I also do aerobics for my school, as well as tennis. It feels great to keep active!