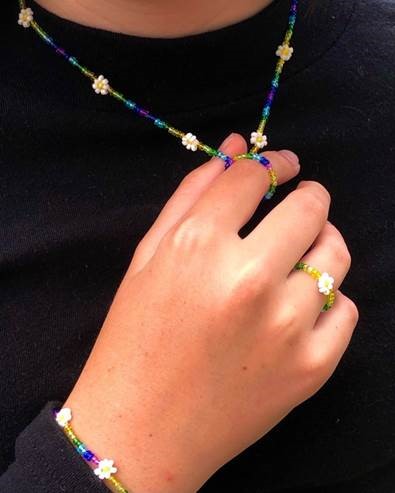 After being inspired by other go-getting #GirlBosses, 14-year-old friends Lily and Sienna decided to start their own jewellery-making business. Being in lockdown presented some challenges, but after hours of zoom meetings and jewellery-making, Billi Beads was born.
Tell us what you create, and what inspired you to start Billi Beads.
Our business explores unique jewellery, designed and made by ourselves. We are inspired by nature and Earth's creations with cute butterfly and bumble bee earrings as well as flower beaded bracelets and rings.
We met at the start of this year and our friendship has grown as we worked on the business. Teen Breathe has greatly motivated us – when we read some of the stories, we were shocked to see so many young teens just going for it, which encouraged us to do the same.
It was quite a process to get started, but after many decisions, calls and catch ups, as well as countless hours of making jewellery, we eventually launched and welcomed everyone to our online store on Etsy.
What do you most enjoy working on, and why?
Sienna: When I saw everything come together it felt good to see all our work being put into action as one.
Lily: I love making handmade seed bead jewellery. It is very time consuming but it is all worth it in the end when we see how beautiful and unique each bracelet, ring, or necklace is.
We both enjoy every moment of making jewellery inspired by the world's beauty. It is really fun to test out different combinations of colours and patterns that look good and are unique.
What was the most difficult thing about starting your own business?
Making jewellery in lockdown was hard because we couldn't see each other. With the 5km travel bubble in place, we would meet in the middle and bead in a park which was fun, but pretty challenging too. Trying to get our jewellery and brand out there to different people was quite a struggle but we've had lots of support from our family and friends which has been very helpful.
Who has been the most help for you?
Both of us have helped each other. Lockdown was a bit lonely at times, and having each other to lean on has been an incredible help through this challenging and difficult year. Sharing a business together has been a big positive this year through many negatives.
What new skills have you learnt, and how?
We have both learnt entrepreneurial, teamwork, and creative thinking skills, and how to run and own a business. We have learnt this by working together on ideas, the website, and the Instagram page. We have both been more creative in picking and choosing colours and patterns. We appreciate the new skills that we have mastered that will help us now and into the future.
What long term goals do you have?
We hope to grow and develop as a business, gain more experience, and learn new skills. We hope to become an inspiration to others in the same way that we have been inspired by other teens following their dreams.
Another goal we have is to make our business more environmentally friendly, as we've realised this is such a big issue that we all need to do something about. We've come up with ideas such as making our own packaging bags, which would eliminate plastic wrapping and reduce carbon emissions.
What advice do you have for other young people who have dreams of starting up a business?
If you have a small business idea that you would love to make a reality, just go for it and follow your dreams! Whether you create your own business or act on an issue you're strongly passionate about, believe in yourself because anything is possible no matter how big or small your vision is!
What do you love doing in your free time?
Sienna: I love to dance – I do many different styles and just enjoy moving around and forget about everything else. Another thing I love to do is bake sweet treats and cakes for fun.
Lily: Whenever things are too stressful, I love to go down to the pool and swim some laps. I also really love cooking and making dinner for my family.
We both really love crafts like embroidery, sewing, drawing and bullet journalling. We both love thinking creatively and our creative minds lead us to our business: Billi Beads!