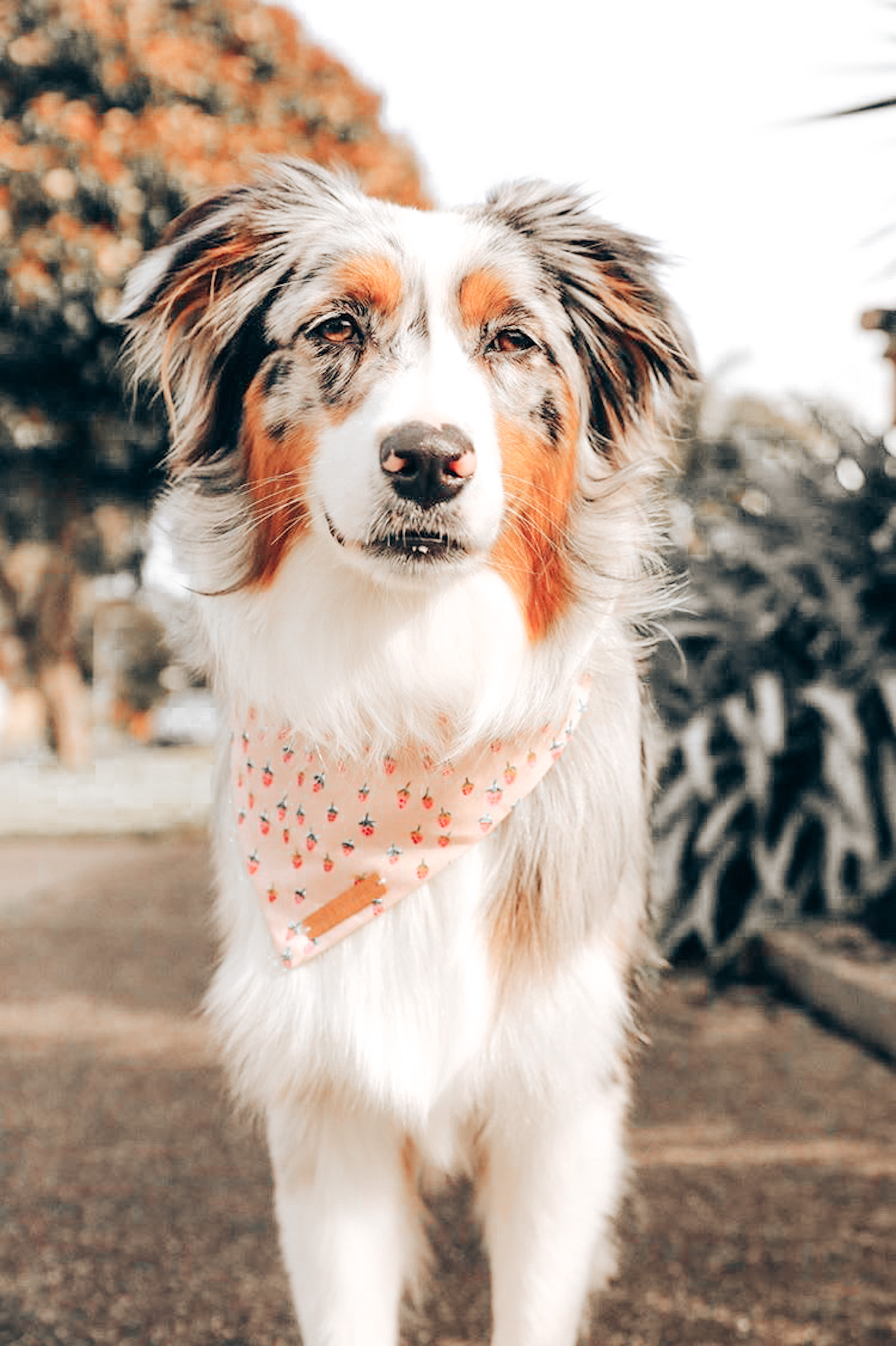 Lily from Waffle and Marley takes us on her journey creating handmade pet accessories.
@_waffle_and_marley_
waffleandmarley.com
Explain to us your exciting business!
I create handmade accessories for pets, including bows, sailor bows and bandanas. Deciding to work in this oversaturated market meant I had to think of creating a range of products that are interesting and appealing, plus somewhat unique. I do this by using textiles and fabrics I have never seen others use before, and by creating my own patterns to sew from. I spend a lot of time choosing my fabrics to make a unique collection of prints and patterns, and deciding what products these fabrics will look good in is also a tricky decision. I must then make one of every product before they release, photograph them, and most importantly of all, promote them. I sell all my products through my website but also take custom order requests through Instagram for overseas buyers.
I didn't think of making pet accessories to sell until I got my puppy, Waffle. Waffle came home to us at the start of January this year, and when I created an Instagram account for him, I started making little bandanas for him to wear in his photos. I had a few people ask me where they were from so that they could buy the same bandanas for their own pets, but at that point I hadn't thought of selling the accessories. My older dog, Marley had never liked wearing accessories before then, so I had never made bandanas or bows before. After a few days of thinking, I decided I should at least do some planning to see where it went, and soon enough I was getting excited by the idea of it which led me to start up Waffle and Marley.
What's been the most fun part of the journey?
The most fun thing about starting up was the prospect of having customers and seeing all the pets wearing the things I had made! The most wonderful thing about having an Instagram-based brand is that most of the people who purchase from you will share cute photos of your products on their own pages. I love seeing when people receive their packages, it is the best part of having social media for sure!
The most difficult thing about starting up my business was trying to stay patient! It is such an exciting thing to be starting something from scratch, so naturally I was fidgeting in my seat waiting for all the parcels of fabric, tags and packaging supplies to arrive! The other most difficult thing was not knowing whether the launch would be a total flop or a success, as there is no way to tell. But luckily for me it was all I could have hoped for and more, which I am very grateful for.
I have learned to be patient and to stick to the plan, as it is so incredibly important to do so when running a small business from home. Planning is the most helpful for me, and I make sure to write down everything I need to know, complete, and remember, as otherwise it would be such a messy process. I have also learnt to properly budget and save my money so that I am able to save money for later whilst also keeping enough to be able to buy more materials for my products.
I am planning more colour themes due to launch in September, so I am also very excited to be able to make Christmas themed accessories!
So, what advice do you have for other young people who have dreams of starting up a business?
Planning is key! I don't think I would have been able to get half as far as I have now if I didn't plan at all, it would become such a muddle in your head; that is much too stressful. I find myself writing down and checking off every single thing I do in a day, which is very helpful to me, not to mention super satisfying!
Photography – I also think that being able to take relatively good photos is very important, having a good aesthetic is what will draw in customers and new followers. Keeping photos light and bright always gives a good first impression in my opinion. I took lots of inspiration from the brands that I admired, looking out for the things that made it so pleasing and professional.
Pricing – It is also important to be charging the right amount for your products. Make sure that you are covering costs of materials, packaging, your time (especially important!), and anything else that goes into making your products as eventually you won't be able to carry on making if you aren't making at least some profit.
Aside from your work, what do you love doing in your free time?
I spend a lot of time during the day playing my baritone ukulele or drawing. I have been playing ukulele for a few years and it is one of my favourite things to sit down and record a song. I also enjoy doing semi realistic character design, usually using Prismacolor coloured pencils to colour my illustrations.