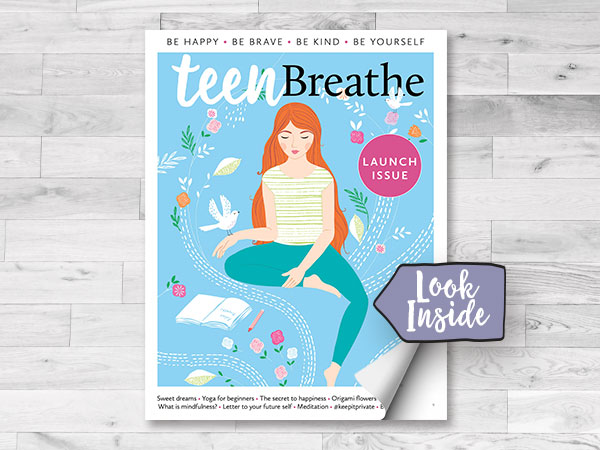 Welcome to Teen Breathe, your go-to guide for healthier and happier living. We have a simple but pretty powerful philosophy that follows in the footsteps of our mindful older sibling, Breathe – Be Happy. Be Brave. Be Kind. Be Yourself.
We believe mindfulness forms the basis of a more authentic and content life; and for our first issue, we've put together tips, fun activities and inspiring ideas to help you explore how paying attention to everything you do, being curious, kind, and staying positive can bring out the very best of you.
In Issue 1 we want to awaken your creativity and we've sprinkled fun crafts and activities throughout so you can uncover your inner artist and celebrate your originality. Learn the art of paper folding by making your very own Japanese kusudama flower using the quirky origami paper for inspiration. Channel Aelita Andre and go colour crazy with the cut-out colouring in and become more mindful of your moods with our DIY fortune teller.
It's not all fun and games in our debut issue! We want you to dig a little deeper and discover more about your unique self and what makes you who you are? Where do you want to be in 10 or 20 years from now? What do your dreams say about you? It's amazing how many new things you can learn with a bit of self-reflection.
There's also a beginner's guide to yoga, smart ways to deal with social media, and tips on how to borrow a dog (sign us up!).
All this and much more in Issue 1 of Teen Breathe, on sale 4th December 2017.