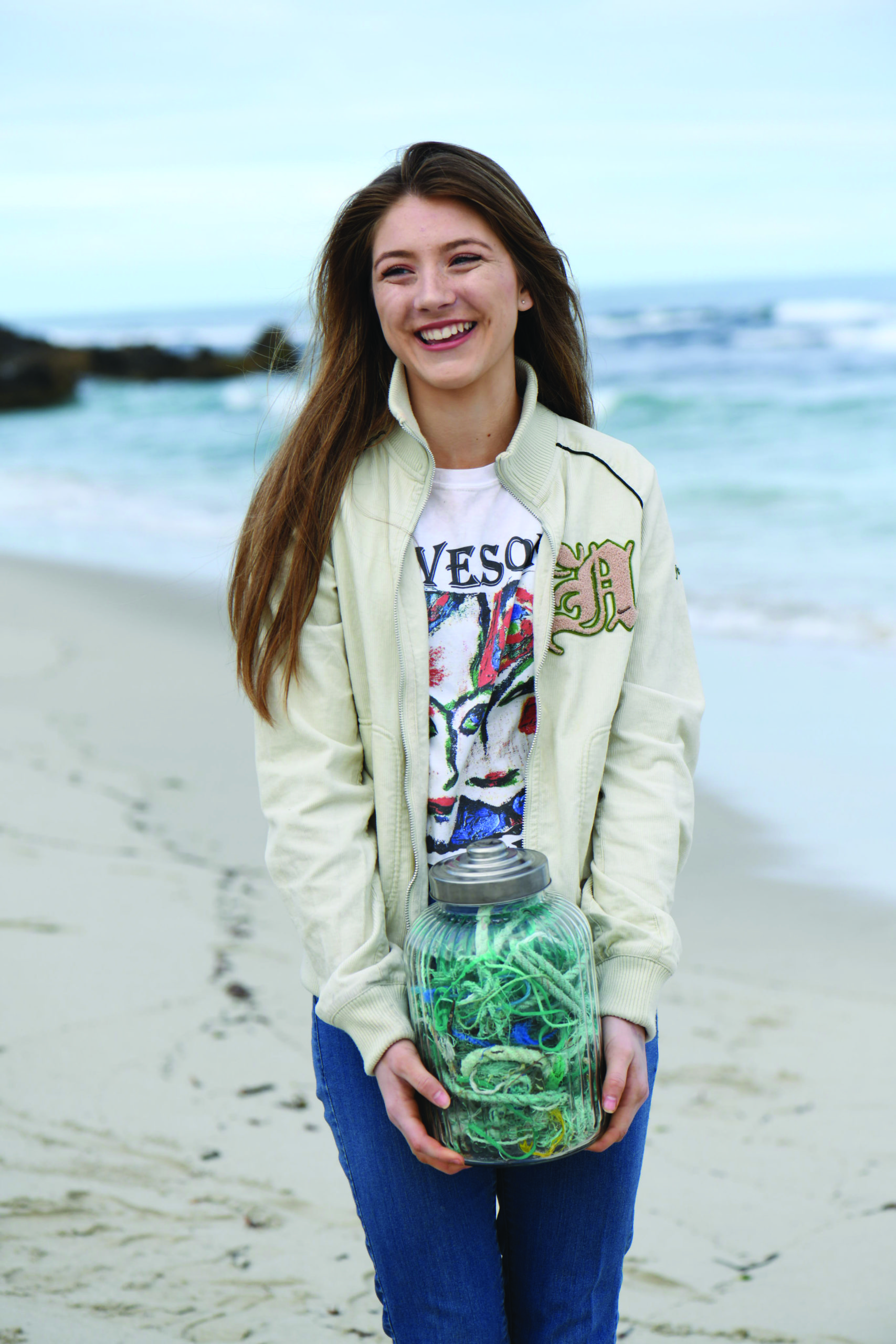 Virginia and her 14-year-old daughter Odessa create art from beach plastic, rope and wood – they call it environmental art. Not only is it a great way to clean up our shores, it's also great therapy for mental health.
In today's world, we need creativity and connection more than ever. There are many creative ways you can express your individuality while caring for others and the environment – and they may be more enjoyable and rewarding than you think. We spoke to two artists who have found a way to upcycle and create mindful, relaxing masterpieces that are as easy as pie to make.
VIRGINIA SAYS: I've always loved picking up quirky, old items and refreshing them – I love their character and charm. I was first inspired by a UK artist who created artworks out of plastic found on the beach, so I went to have a look myself, and I was shocked and saddened by how much rubbish there was along the beach.
Not long after, I created my first piece of art from all the trash I had collected. Now, I love going for long beach walks with my daughter, Odessa, and her friends – and while doing so, we pick up rubbish from the shore, not just to help the environment, but with the intention of creating unique pieces of art.
My main focus has been to exhibit my art to raise awareness of ocean pollution. I think everyone can do at least one thing a day to help the environment and I choose to pick up beach rubbish. It's a privilege to be able to help our ocean rid itself of what humans put in it.
The oceans 'throw out' this rubbish desperately, mostly in storms, and if you don't quickly remove it from the shoreline, it's dragged back in again.
It's so therapeutic making my pieces of art with my daughter. I find the ropes relaxing to sew while binging on Netflix with Odessa and our animals! We love coming up with new ideas and we're determined to find uses to recycle all of the different rubbish types we find at the beach.
If everyone saw beach rubbish as 'free art supplies', then the world's beaches would be cleaner by natural attrition. We can help create a new industry. I would like to see nations with massive waste problems create this kind of art and sell it to tourists.
Most of all, I just love spending time in nature with my daughter, creating magic and having fun. Plus, I love making others happy with my environmental art!
HOW TO CREATE YOUR OWN UNIQUE PIECE OF ECO-ART:
Go down to the beach and pick up rubbish.
In your backyard, lay your finds out on a sorting table.
Sort rubbish into groups and put into labelled storage bags or jars.
Brainstorm an artwork design idea based on shapes and colours.
Start working on the piece. You'll need to remove sand as you go!
Use different types of glue as ocean rubbish isn't always happy to stick down.
Take pictures of the process and keep moving items around, like a jigsaw puzzle. Don't cut or colour the plastic.
Don't colour or cut rope. These are rules I have as it keeps everything in its condition 'as found' and shows the plastic and rope's journey. I love that it's not perfect and it's broken.
Find a spot for your masterpiece in your home or share it on social media with friends and family.
You can find more examples of Virginia and Odessa's art on Instagram